Braidwater is set to release the new homes for sale at Church Road, Waterside, Derry/Londonderry, with more information available later today.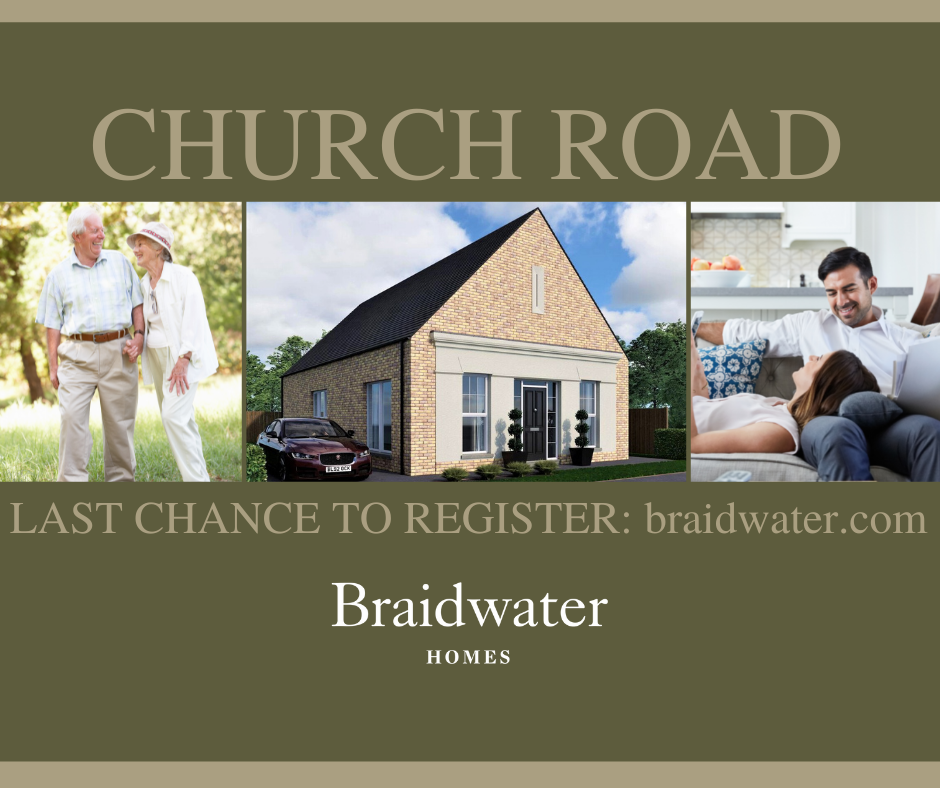 Low carbon bungalows
The development consists of 6 new detached low carbon, single story, 3 bedroom turnkey bungalows, each with a renewable energy, air source heat pump.
Reservations
In order to be in a position to reserve one of our low carbon bungalows at Church Road, you must first register your interest here before 3pm, Monday 7th March:
Brochure, 3D walkthrough and Property Pal listing
Ahead of the release this week, the new brochure and a 3D walkthrough have been published, giving prospective purchasers the perfect overview along with pricing details:
Church Road
Located in a convenient and desirable area, the new homes are just off the main A6 with easy access to the city or direction of Belfast.
A private development in a peaceful area, all properties will combine modern day architecture with high levels of energy efficiency and an open plan layout.
Features
The houses at Church Road are designed to accentuate the open plan space throughout the kitchen, dining and family area and are awash with natural light. 
The open plan combined with tall windows add to the spacious ambience of these bright homes, while cutting edge modular construction techniques and high-performance glazing ensure that they will stay warm in winter, have a low running cost and maintain a low carbon footprint.
Additionally, residents will avail of a luxurious turnkey finish, open plan kitchen/living area, master bedroom with ensuite and walk in shower, beautifully landscaped gardens, energy efficient heating, private driveway and as always the option to upgrade tiles, carpet and the kitchen.
Air Source Heat Pump
A renewable energy source, air source heat pumps take the warm air from outside (even when it's freezing) and heats the home. A major environmental benefit of the heat pumps is that they produce no carbon emissions onsite, unlike the traditional oil or gas burners. 
Darren Farnan, Marketing Manager at Braidwater commented:
"We're very excited about our low carbon Church Road development as it's so accessible and located in such a sought-after area. With Braidwater's high standard turnkey finish, the demand for these homes will be strong so we advise anyone who is interested to register straight away in order to be eligible for the release.
''The air source heat pumps will help lower the carbon impact on the environment, plus they're also cheaper to run!''
The development at Church Road is ideal for commuters heading to the Waterside and Cityside areas, and it is close to the start of the new A6 that links the north west with Belfast in just over an hour and a half. 
Stephen McCarron of Donnybrook Estate Agents commented on the demand for the bungalows:
''Since we opened the registration of interest pre Christmas we've been inundated with enquiries. The demand is extremely high so we advise everyone to register immediately and to keep in touch with us. These bungalows are unique in that they're low carbon, very accessible and in a lovely quiet area of the Waterside.''
Selling agent:
To discuss the development and your options please speak to:
Donnybrook Estate Agents on 028 7134 3600.