Braidwater is delighted to confirm that Deposit Unlock is now available for the Acorn 2 bed apartments at Beech Hill View in Derry/Londonderry.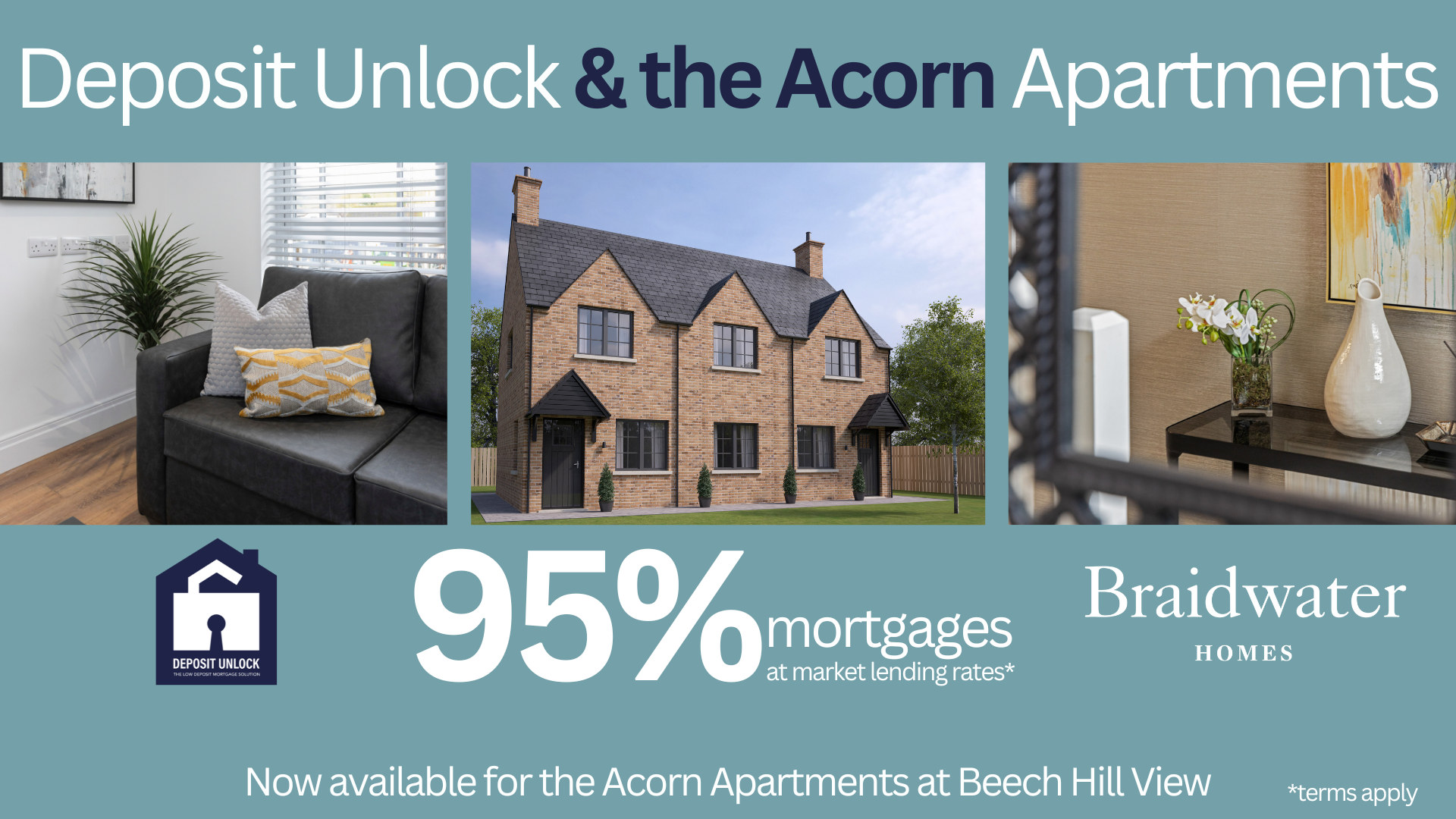 Earlier this year, Braidwater joined forces with the UK's national Home Builders Federation and the Construction Employers Federation to become the first Northern Ireland house builder to introduce Deposit Unlock. At the time, Deposit Unlock was introduced for homes in Roe Wood and Deanery Place.
Deposit Unlock is a scheme which is available to help first time buyers and home movers buy a new build home with a 5% deposit. It also provides customers with competitively priced mortgage products and makes buying a new home more affordable.
Acorn Apartments
Recently released, the Acorn Apartments are nestled within the highly sought-after Beech Hill View development off the Glenshane Road in Derry/Londonderry.
Innovatively designed, the spacious 2 bed apartments also have their own door access, designated parking, open plan living and as standard, are turnkey. Find out more, click here.
How does Deposit Unlock work?
Mortgage lenders are often stricter on the amount they are willing to lend on the purchase of new builds and often set the minimum deposit for new build properties at 15%.
Deposit Unlock gets round that and allows you to buy a new build with just a 5% deposit. With Deposit Unlock, the house builders pay to insure the mortgages instead. 
And they use some of the money from selling the homes for this purpose; the aim is to make lenders more comfortable about offering high LTV mortgages on new builds.
This scheme is exclusively for new build homes and with a maximum loan value of £750,000. 
Download the Deposit Unlock flyer – click here.
Deposit Unlock Mortgages
There is currently one major lender under the Deposit Unlock scheme in Northern Ireland providing mortgages: Nationwide. Later in 2023 there will be a further announcement of additional mortgage providers entering the market.
What are the benefits?
The main benefit of Deposit Unlock is that it is offering first time buyers – and home movers – access to 95% mortgages on new build properties.
The scheme allows customers to access a low deposit mortgage at competitive interest rates.
Speak to our Agent
For further details about buying a home at Beech Hill View you can register your interest on the link above or contact our selling agent Donnybrook Estate Agents on 02871 343600.
Financial advice
Our dedicated Independent Mortgage Advisor can be contacted to discuss in complete confidence. Please speak to John Duffy of Smart Mortgages on 077 4696 9497 or john@smart-mortgages.co.uk. 
FAQs
Who can use it?
Deposit Unlock is intended for first-time buyers and home movers with a low deposit. It's not available to buy-to-let borrowers.
Which homes can it be used on?
The offer is available on selected plots only and is subject to conditions. Following the withdrawal or termination of any offer, Braidwater reserves the right to extend, reintroduce or amend any such offer at any time.
Can it be used in conjunction with other schemes?
No, Deposit Unlock cannot be used at the same time as other Braidwater offers or incentives.
How is affordability calculated?
Each mortgage lender using the scheme (currently Nationwide) will assess affordability in the normal way using their lending criteria.
What do I do next?
If you're interested in using the Deposit Unlock scheme on a new Braidwater home, search for your new home here and contact us today.
Our friendly sales teams will connect you with a specialist New Build Mortgage Advisor to help arrange your Deposit Unlock application and mortgage. After that, you'll be on your way to moving into a brand new Braidwater home with just a 5% deposit.