The North West remains one of the most affordable places to buy a home in Northern Ireland, according to the latest quarterly housing market report produced by Ulster University, in partnership with the Northern Ireland Housing Executive and Progressive Building Society.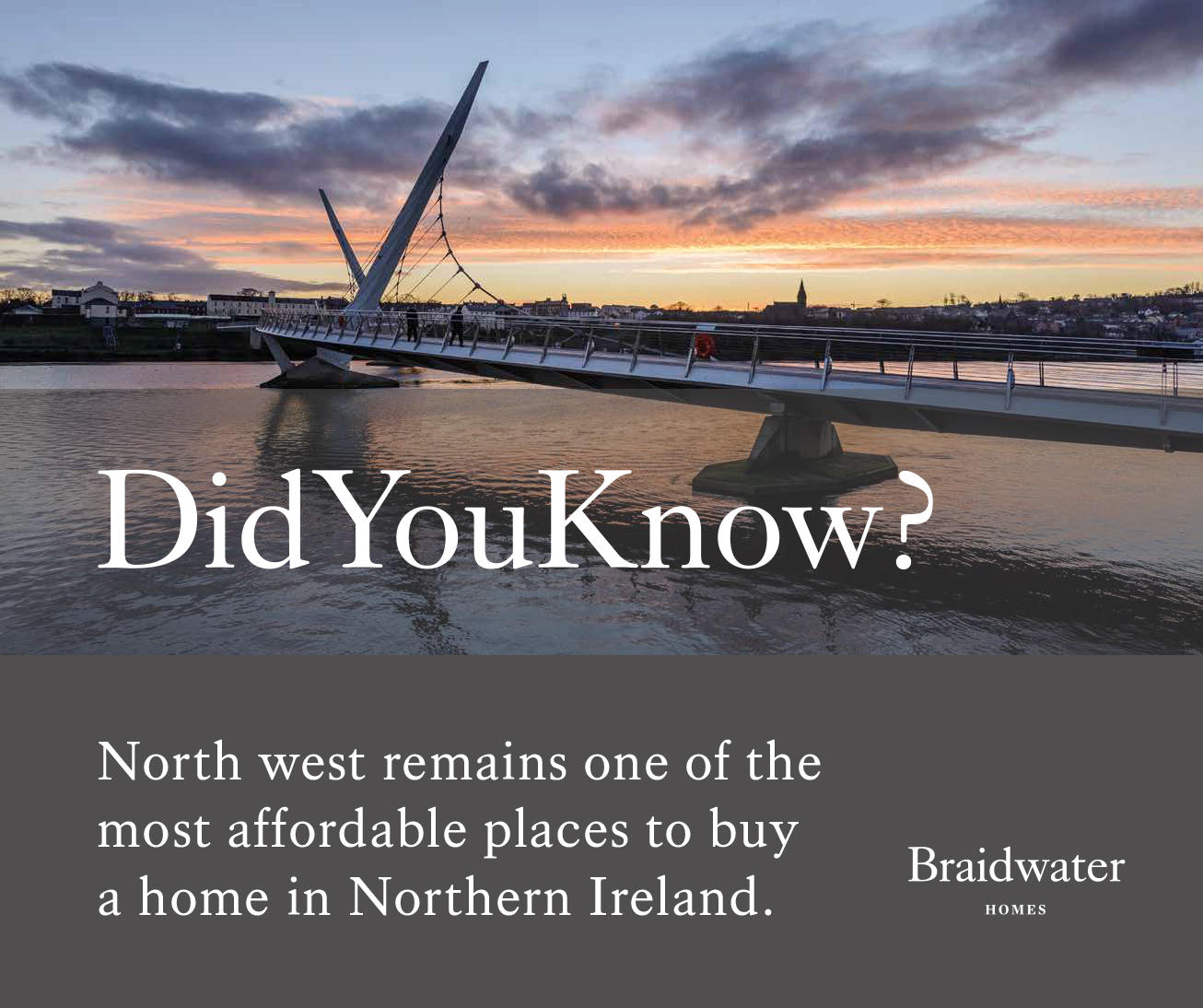 The report analyses the performance of the Northern Ireland housing market during the second quarter of 2019, the months of April, May and June. It found that the average price of a home in Derry City and Strabane was £138,164 while the average price in Belfast was £146,834. 
The findings of the survey indicate a resilient market in Northern Ireland with the House Price Index showing relative parity. 
Derry-Londonderry is the second largest city in Northern Ireland and in recent years it has made a name for itself as a tourism hot spot. Known for its historical architecture, large scale festivals, drama and music, the city is attracting large scale investment from global companies who recognise the city's access to top quality talent and an affordable high standard of living.
Improving transportation connections mean that Derry residents can access Belfast via bus, train or road in 90 minutes, while the City of Derry Airport provides direct flights to London, Manchester, Glasgow, Liverpool and Edinburgh. 
If you are tempted to relocate to Derry there are a number of locations you can choose from within The Braidwater Group. 
Located in Eglinton and with operations throughout Northern Ireland, The Braidwater Group has over 40 years' experience in the industry delivering top quality homes. The company currently has eight 'live' developments with close to 1,000 private and social homes in construction throughout Northern Ireland. 
Beech Hill View is a new development located on the edge of the city. With a range of 2-5 bedroom, semi and detached homes, there are options for all types of purchasers, whether first time buyers, downsizers or families upsizing. Find out more here.
Interest levels are expected to be high, as Braidwater has released the final homes of phase 1 at Derry's newest luxury development, Gleann Elagh. The development, on the Upper Galliagh Road in west Derry, comprises 21 detached homes laid out in a traditional avenue style. Offering opulent living, Gleann Elagh is located in a secluded setting and sheltered by private land populated with mature beech trees, just five minutes from the city of Derry. Find out more here.
Birch Hill is an exclusive development of high quality homes located on the edge of open countryside at Belt Road, one of Derry's most sought after addresses. This quality development features a superb range of extremely energy efficient detached and semi-detached homes set in a carefully crafted, landscaped site layout. Find out more here.