Just a few weeks ago, local couple Erin Mulligan and Stephen Pearson received the keys to their bright, spacious new home at Roe Wood, Limavady.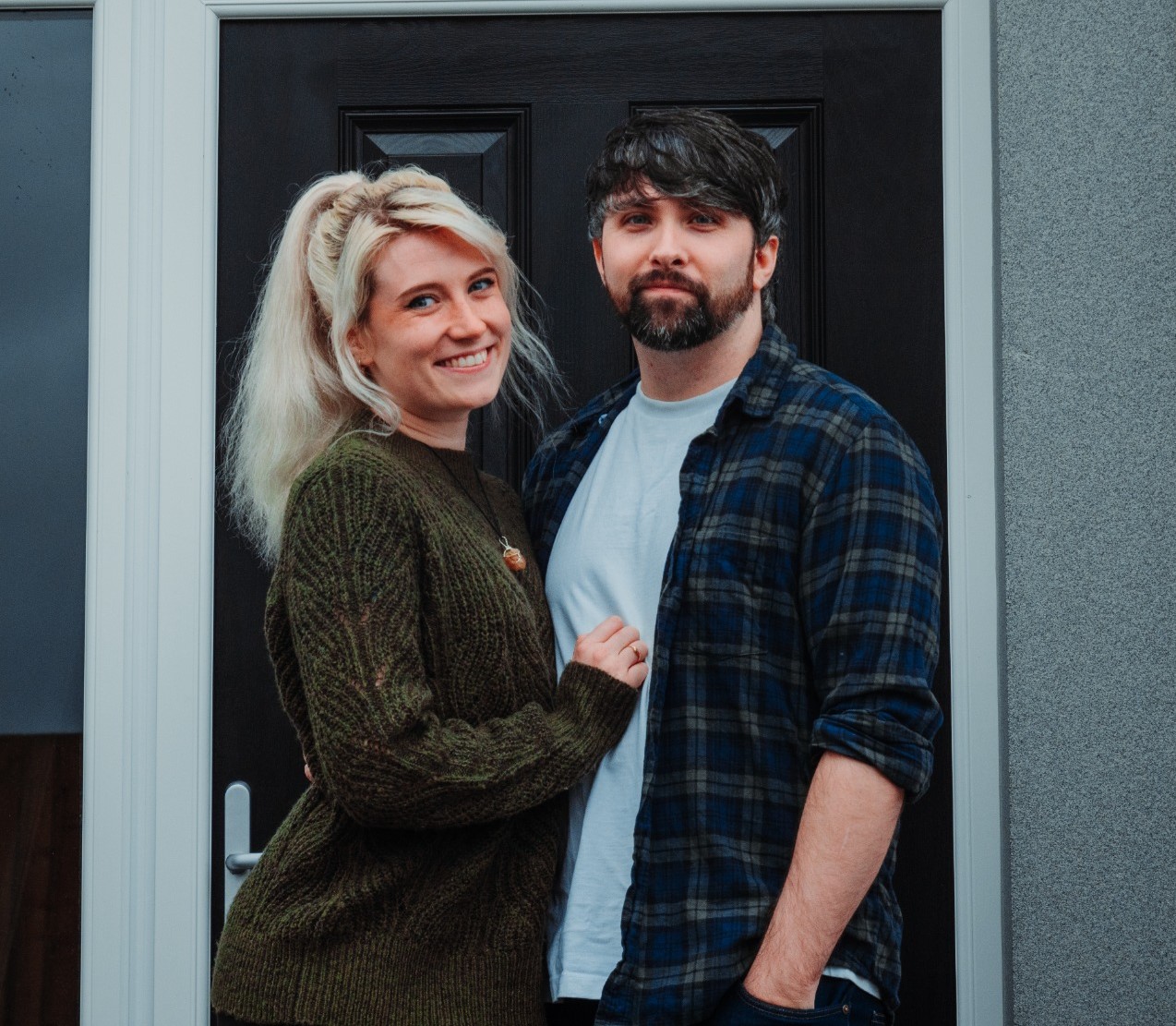 Erin and Stephen pictured at their Roe Wood home.
Clearly overjoyed with their purchase, the pair emphasised what an amazing day it was for them in getting to move in and explained how never in their wildest dreams did they think they'd own their own property before they were 30!
Erin said: 'At 26 and 30, we never thought we'd own a home anytime soon and were renting in the town but having the opportunity to be home owners of such a gorgeous home has truly made us beyond happy.
'We were absolutely ecstatic to receive the keys to our new home, it was an amazing day!''
The process of purchasing their new home began with a visit to the show home and a chat with Lynsey Hart from Bensons, who they said couldn't do enough for them.
'Both Bensons and Smart Mortgages were super helpful. A special mention to Lynsey from Bensons for the fantastic work in helping us secure our new home. And we also spoke to John Duffy from Smart Mortgages. He was a star and made the application process very easy.'
Mind you, the glowing praise wasn't reserved for Bensons and Smart Mortgages only, as Braidwater's own Joysclen Moore also came in for some excellent positive feedback from the happy couple.
'The Braidwater team were also superb and very informative. Joysclen especially, was really helpful with our picks and turnkey package easy to choose. The rest of the Braidwater staff were so easy to deal with and have always made us very welcome,' said Erin.
All in, the whole process was smooth and easy to follow and Erin said she really enjoyed the selections element most of all.
'Definitely doing our design picks was fantastic. It was great to be able to choose our tiles, carpets and kitchen etc., thus making sure we were putting our own touch to our new home.'
So Braidwater asked what was the biggest impact on the couple's lives? Erin explained what owning their own home would mean.
'Owning our own home is definitely a huge saving on mortgage versus renting. We also expect our heating will be a lot cheaper this winter as we'll be using gas instead of oil, so that's great news!'
She concluded by describing what the impact of their new home has had on the young couple.
'The house is just wonderful. Our overall comfort has increased and it's lovely to have a warm, cosy home to come home to every night. It's great to have our very own space where we can work, enjoy our down time and start a life together. To have a whole room (spare room) to use as a mini library is a huge bonus for myself!
'We truly appreciate all Braidwater has done for us in helping set us up in our new home.'