Now that the new homes market has reopened for business, Braidwater want to make the process of moving into your new home as easy as possible;
Currently you can view our show homes via 3D links which are accessible via the Braidwater Homes website. When you're ready to secure your new dream home, all conveyancing can be done remotely and at no cost to you* through our online conveyance partner, MKB law.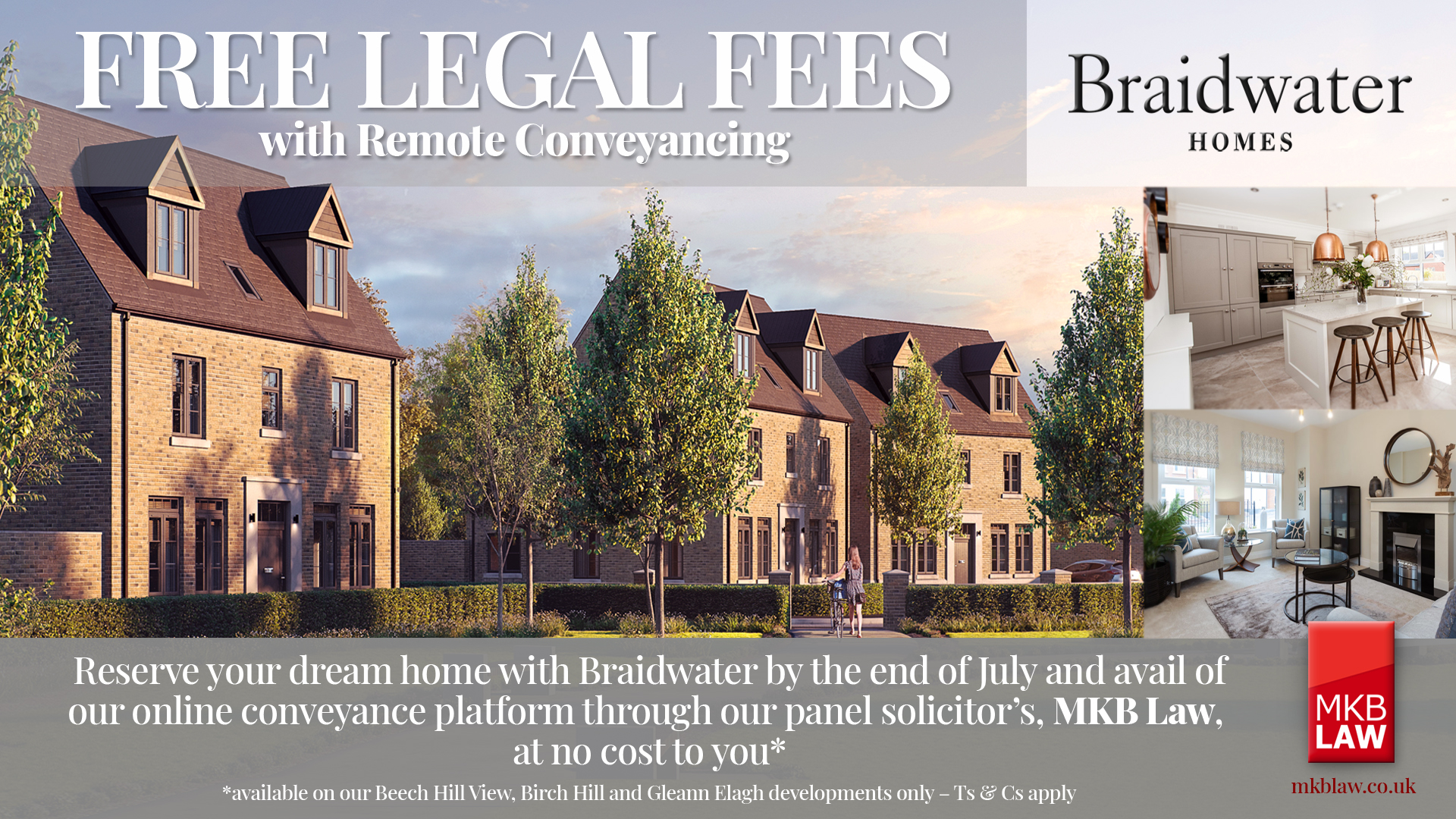 So who are MKB Law?
MKB law is an established member of Braidwater's solicitor's panel and who have recently developed online conveyance for new homes in conjunction with Braidwater.
MKB Law has established one of the most reliable conveyancing teams in Northern Ireland, offering practical and prompt advice province wide in relation to buying and selling residential properties.
With COVID-19, and the requirement for legal services to be delivered remotely, MKB Law is leading the way with remote conveyancing with geography no longer a relevant consideration.
How does ONLINE conveyancing work?
Each prospective purchaser will be assigned an online conveyance account, which facilitates video meetings via Microsoft Teams. Contact can also be made through other popular video conferencing platforms.
Each stage of completion via remote conveyancing will include:
– remote inspection of photographic ID and proof of address;
– joint review of the title and mortgage reports;
– execution and witnessing of the Building Agreement, Agreement for Transfer, Transfer; and
– Mortgage Deed as applicable. Use of video calls enable the signing of documents and witnessing in accordance with Land Registry requirements.
Online conveyancing negates the need for you the client to ever physically attend the solicitor's office saving you time and minimising stress.
Commitment
Cormac McCloy, sales manager of Braidwater outlined the company's position:
''Braidwater is committed to delivering top quality new homes and this is another example of the company going the extra mile for customers in the current climate by providing remote working options and covering the legal fees. There has never been a better time to secure your dream home with interest rates at an all time low!''
Get in touch:
To avail of this special Covid offer please make contact with our selling agents to discuss:
Beech Hill View and Birch Hill: Donnybrook Estate Agents on 02871343600
Gleann Elagh: Oakland Estate Agents on 02871 267979
*Terms and conditions apply
Available on Beech Hill View, Birch Hill and Glean Elagh developments only; Reasonable costs and disbursements covered in connection with the purchase of your Braidwater home will be covered up to a maximum of £1,500; Offer available to new purchasers who pay a deposit by the end of July 2020 and existing purchasers on selected plots* – contact our agent for details; Offer only applicable on completion; Alternative incentives available on selected plots.