Having spent a few years travelling, 26 years-old Linzi Smith from Ballymoney has now decided to take her first step on the property ladder with a new home in Wattstown Manor.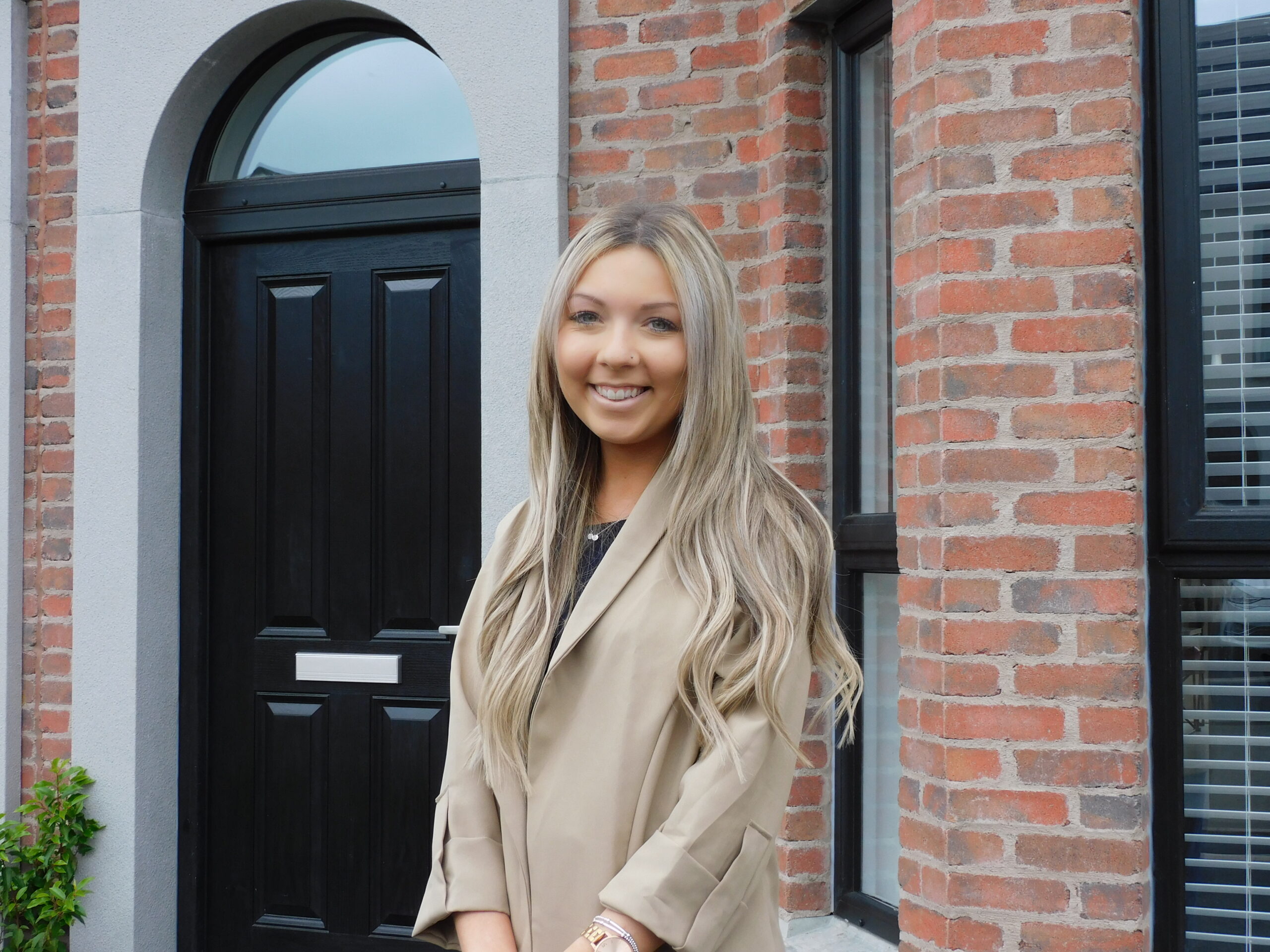 Linzi Smith pictured at her new home in Wattstown Manor.
Now back working in Coleraine and with friends and family close to Knockbracken, Wattstown Manor was the ideal location for Linzi, who is absolutely delighted to secure her new home at such a young age.
The young Ballymoney woman was determined to secure the new property and back in March 2020, with the help of her family, she got them to book the 'Sandel House Type 3-Bedroom Semi' suitably located with an impressive south-facing rear garden
Taking up the story of her house hunting, Linzi described how it has always been an ambition to own her own home.
'Honestly it just felt so good. Having my own house has been a goal of mine and I'm so delighted to have achieved this at 26. I am so excited to be able to design the interior however I like. When I got the call from Frankie (the foreman) that my keys could be released and the house was officially mine, it seemed so surreal! I couldn't wait to get down and open the door for the first time – it was such a fab feeling.'
House buying can be daunting for some but experience from start to finish has been straight forward says Linzi.
'From the very beginning I found both Braidwater and Bensons great to deal with. As it was a turnkey-finish I had everything to choose for example the kitchen doors, worktop, carpet and tiles.
'Both Braidwater and Bensons made the whole process super smooth and any queries I had were answered straight away. Lynsey in Bensons was so thorough, professional and helpful when it came to making the individual selections. 
Linzi describes how from beginning to completion she couldn't have asked for a better service. She was kept informed of all updates throughout the process on a very regular basis, and added: 'I was always kept in the loop – which I felt was very professional and important – highlighting the importance of great customer care.'
The joy of buying a new home is the thrill and excitement you experience when having to make your own personal selections. Linzi was no different and really enjoyed the whole process:
'I really loved thinking about and choosing the kitchen area. In doing this, I found it was important to visualise what the kitchen would look like when finished – so Pinterest and searching previously completed Braidwater homes was my life for a few months.'
Since the big move Linzi was pleasantly surprised on how easy the home is to heat.
'With the house being timber frame and being so well insulated, running costs are low. I moved in in March and only need my heat on for 1 -2 hours per day leaving the house cosy (and believe me I am always freezing cold- so I was happily surprised). Basically since the beginning of April I don't need the heat that much at all.'
Overall Linzi's experience from the start to end has been top class and it was summed up by Linzi on the day she moved in.
'On moving into my house, I met the foreman at the Wattstown site, Frankie. He took me around the house and showed me how everything worked, the central heating boiler, how the electric and gas showers worked etc. Frankie really took his time and was extremely patient in doing this. I really can't speak highly enough of him and his team.
'I would highly recommend Braidwater Homes to anyone thinking of buying. The information provided, the range of choice and the end finish have all exceeded my expectations, and I really couldn't be happier.'