Braidwater's Managing Director, Joe McGinnis, this week spoke to the Belfast Telegraph on the forces at play which are changing the Northern Ireland housing market.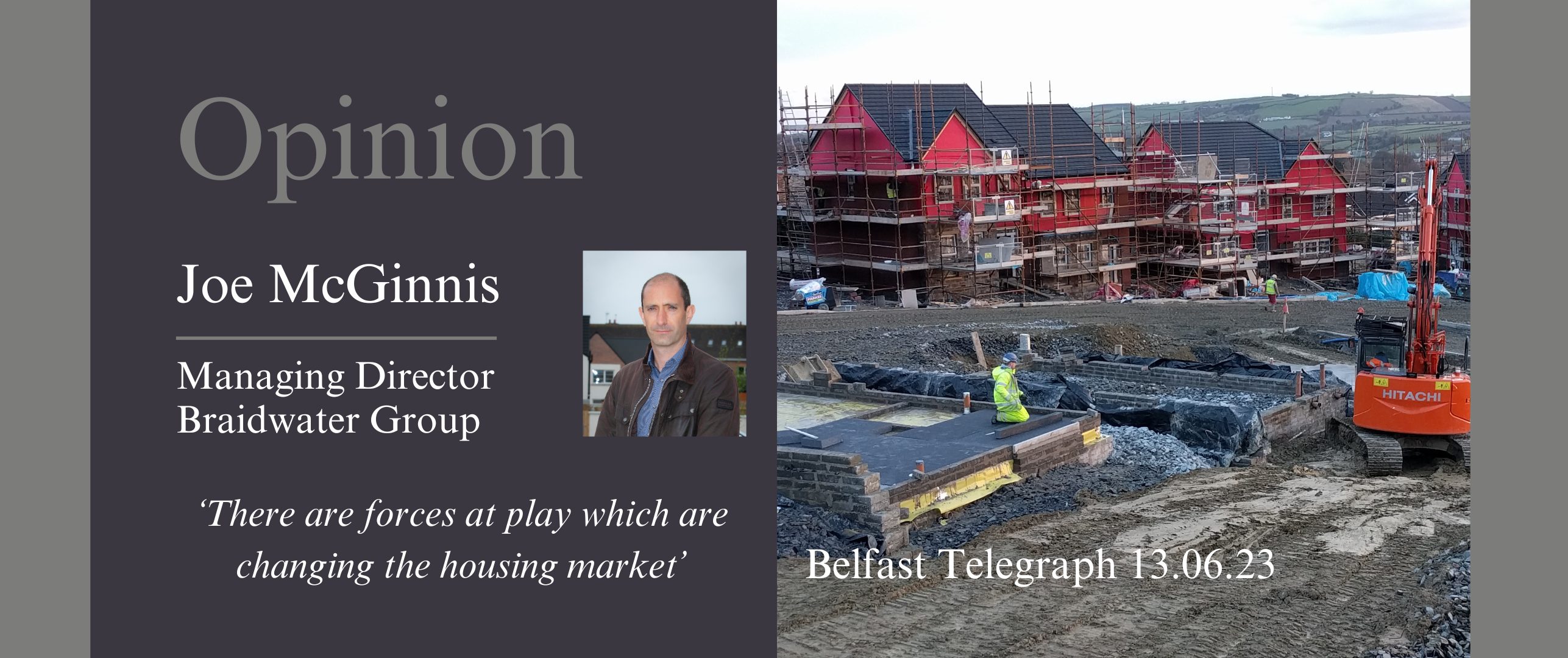 The Braidwater Group builds, on average, 250 to 300 new social, private and private-rented homes in Northern Ireland each year.
The company has a pipeline of work that stretches over 10 years as a result of taking a long-term approach to housing delivery.
Business is reasonable, but there are forces at play which are silently and inexorably changing the housing market — changes which will have major economic and societal repercussions.
Some of the macro-economic issues affecting the housing market are too big to miss: the cost-of-living crisis; inflation levels, which have more in common with the 1970s than the 2020s; and the recent spike in interest rates (although thankfully not to 1970s proportions).
Despite unexpected stickiness in recent core inflation data, some of these pressures are expected to ease later in the year.
All things being equal, these issues might have been expected to have had more of an impact on the housing market. However, from Braidwater Group's perspective, focused on new-builds, demand is robust.
The confidence fright caused by the Truss/Kwarteng mini budget certainly slowed things down either side of Christmas, but that appears to have worked its way through the system.
Demand for the rest of the year, barring any 'unknown unknowns', is looking reasonably strong.
Demand is, however, only one half of the story, albeit one that is more noticeable because factors such as interest rates or sentiment can have a significant impact over a short period of time.
That, however, means that the slower-moving tectonic plates that impact housing supply — and which will affect the market for years — are less appreciated.
According to the latest quarterly NI Residential House Price Index, new-build homes continue to outperform the rest of the market.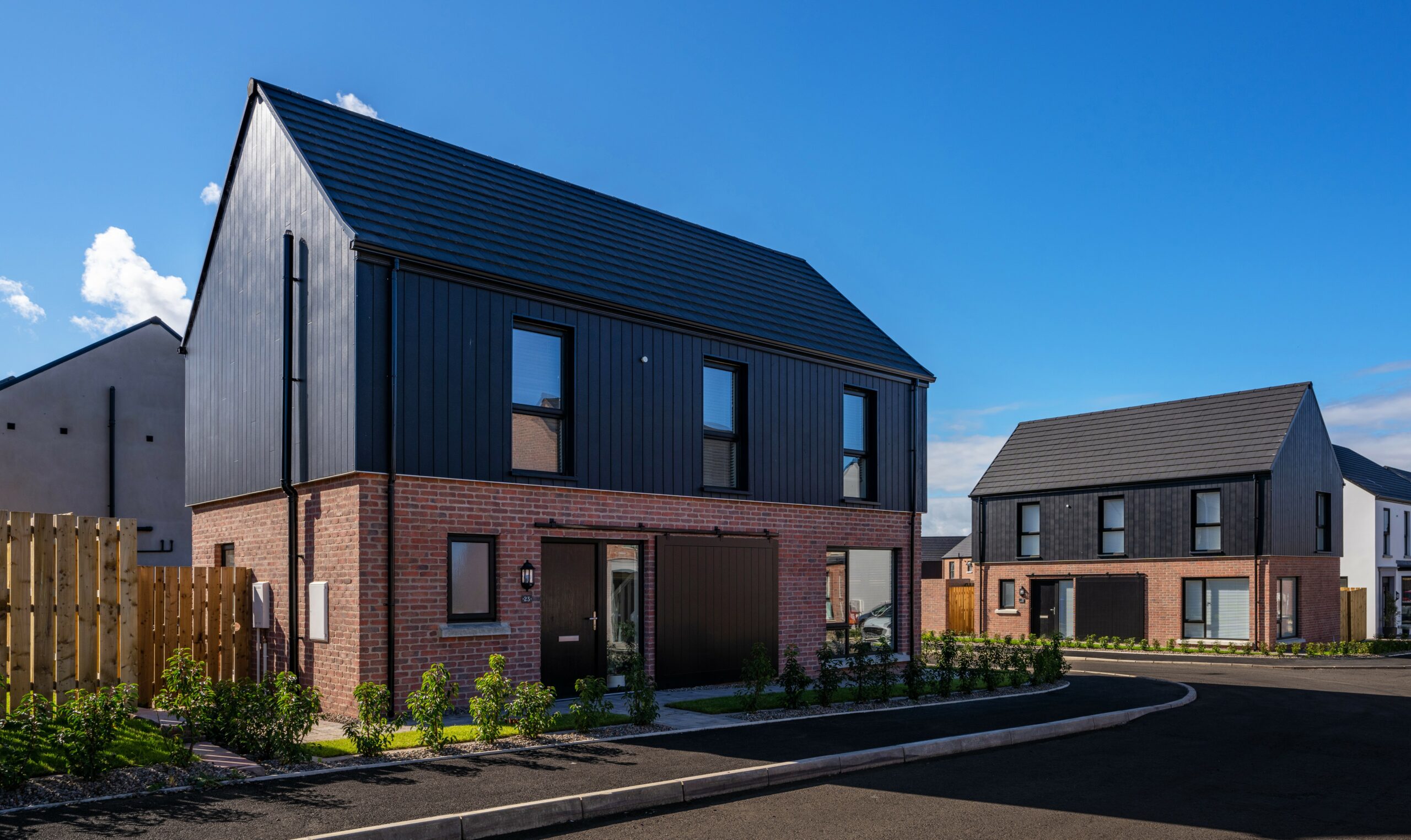 New-build homes continue to outperform the rest of the market.
Prices were up 3.9% quarter on quarter and 13% year on year due to a mix of positive sentiment and the inability of supply to keep up with demand.
New house starts were 29% down on the previous year, and they haven't been this low since 2014. What's going on?
It will be no surprise to learn that NI's planning system remains a major impediment. Its inefficiency and the imperative for change has been the focus of multiple reports.
If and when the Executive gets up and running in the autumn, delivering meaningful reform of the planning system needs to be a priority.
It's time for the culture of buck passing to end.
Planning, however, is but one of the issues which will grind new-build starts to a snail's pace over the medium term.
They're all complex and addressing them will take time.
If we want to avoid the housing pressures and associated social and political pain which is besetting the Irish housing market, particularly in Dublin, we need to start addressing them now.
Apart from planning issues, the unacceptable state of NI's wastewater system and the inability to provide a modern funding model for NI Water will continue to stop housing development dead in its tracks.
If the wastewater system can't cope with new connections, the result will simply be no new connections.
But it's more than just planning and water infrastructure. It's also the sheer cost and complication of building new homes, particularly at scale.
The hidden costs and complexity have only gone in one direction.
Ultimately, for businesses to remain viable and retain the capacity to invest long term, costs are passed onto consumers.
Other hidden costs, however, have also soared. Insurance premiums for builders and consultants are eye-watering.
Financing costs for essentials such as road bonds are also at historic highs, whilst the range of financial/banking support for builders in NI is more limited and expensive compared to Great Britain.
Net zero commitments and related regulations are costly, complex and time consuming. Planned energy efficiency, for example, is greatly needed, but it's probably adding £3,000 every year to the cost of a new-build.
There are also increased taxes or duties for diesel, aggregates and concrete, which are adding to costs, especially if there aren't alternative products in the market.
Unfortunately, no one wins in this scenario. Everyone is affected. Builders, home buyers, renters and housing associations will struggle to deal with the challenges unless major intervention and joined-up thinking are brought to bear at the highest level.
Somebody said to me recently that house building is akin to "walking through glue".
We need Stormont and Westminster to help get the sector 'unstuck'.
Restrictive supply and escalating building costs makes this a good time to buy a new-build if you can afford it.
In the medium term, however, if things don't change, there won't be many new-builds on the market by the end of the decade.
That's not great news for house builders, those hoping to get on the housing ladder, or even the politicians who will have to pick up the pieces of a generation that can't afford to buy or rent a place of their own.