In the last five years Derry-Londonderry has ridden a wave of positivity which has seen it undergo an impressive cultural transformation.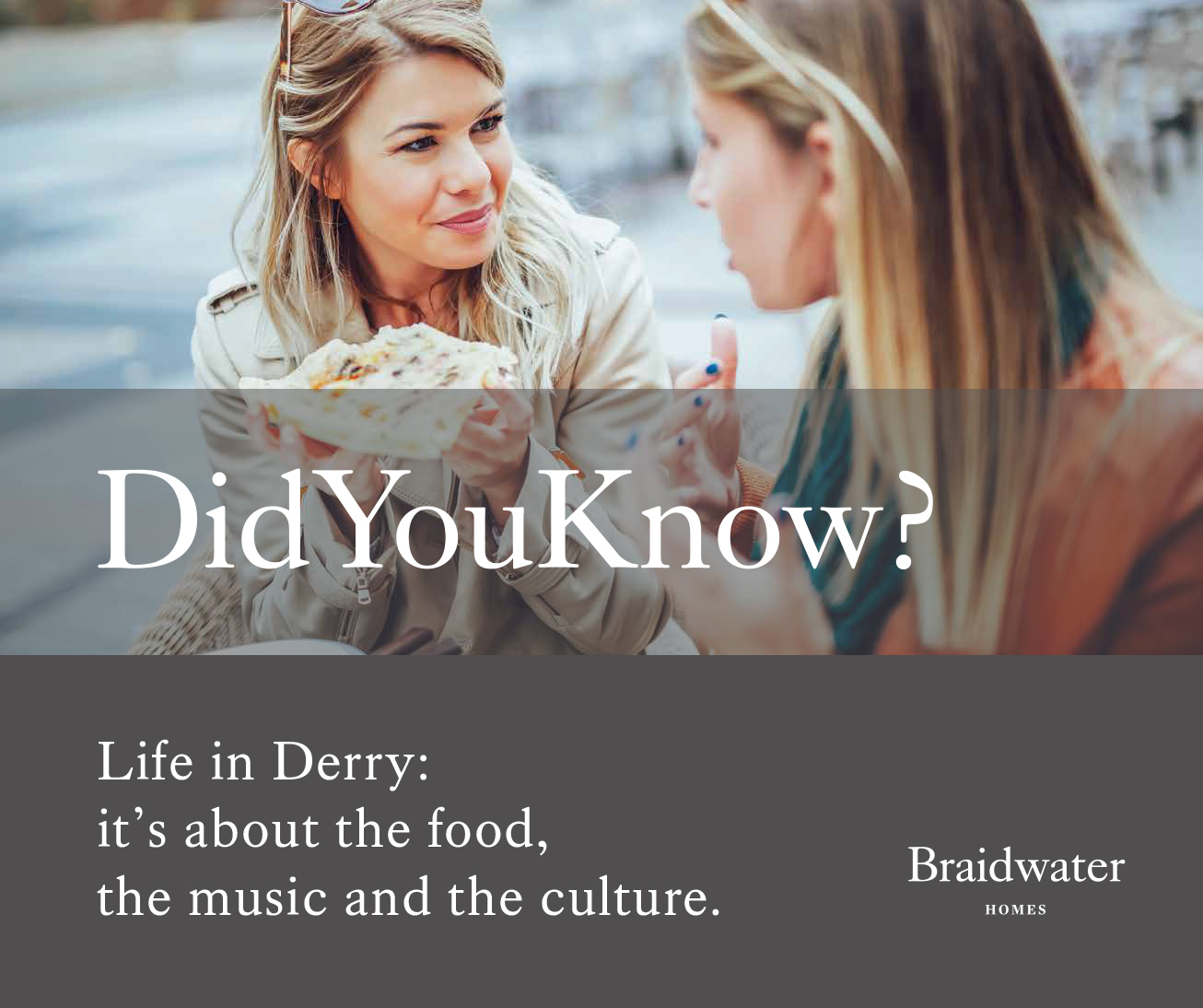 No longer recognised solely for its historic walls, which are the only completely intact city walls in Ireland, the now globally famous Channel 4 series 'Derry Girls' has shone a light on the city's sense of humour, its history and its friendly atmosphere – all of which combine to give Derry its unique character.  
With its beautiful natural setting on the banks of the River Foyle, it is just a short jaunt from the city to the wildness of the hills of Donegal, making the city a very attractive place to live in the North West of Northern Ireland. 
The foodie scene has been growing in recent years as food and drink producers join forces at local fairs, markets and food festivals. The first 'Slow Food Festival' took place last year with over 20,000 attending to taste the local offering. Carol's Stock Market, Broighter Gold Rapeseed Oil, Walled City Brewery Beer and Dart Mountain Cheese are just a few of the local culinary delights that are becoming everyday household names. 
Whether it's brunch in Derry's Craft Village at Soda & Starch or a stylish dinner along the River Foyle at Michelin recommended Brown's Bond Hill, locals are treated to dishes bursting with flavours from their 'back garden.'
For entertainment The Millennium Forum, Guildhall and The Playhouse are all packed with programmes which suit a variety of different tastes. Visiting shows and local productions are scattered through-out the line-up, showcasing the best of international and local talent. 
For those who are interested in discovering new musical talent, Derry's music scene is a treasure trove of artists bursting with potential. Recent break-out star SOAK, otherwise known as Bridie Monds-Watson, is a Derry-born singer-songwriter described by The Guardian as 'a vivid portrait of teenage deep-thinking'. Her indie-folk melodious tones encapsulate the spirit of Derry – alternative, budding and extraordinary. 
Darren Farnan, marketing manager at Braidwater, said: 
"There is no doubt that Derry-Londonderry has changed for the better in the last five years. There has been a lot of positivity in the city and that has translated into an exciting offering for tourists and residents alike. At Braidwater we have seen far more people choosing to move into the city centre and this in turn has increased demand for our high quality homes. This trend is likely to continue and we look forward to working with anyone who is looking for residential accommodation in Derry at the moment."