Claughlin Park – Luxury New Development Announced for Ballyclare
Braidwater Homes is delighted to formally announce a new luxury development in Ballyclare – the splendid and luxurious Claughlin Park!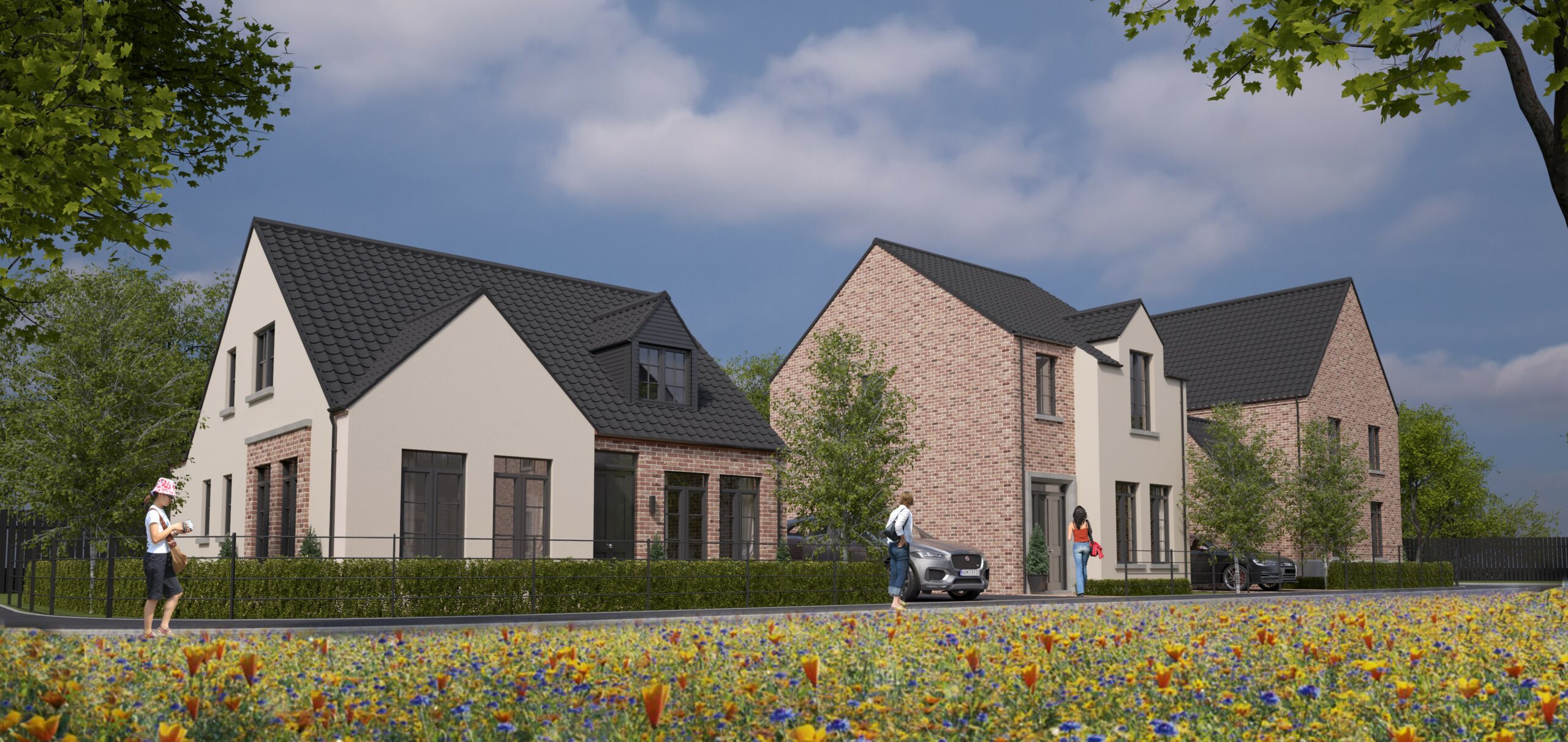 A computer generated street scene of the homes at Claughlin Park in Ballyclare.
This new private housing development will consist of 127 new three, four and five bedroom semi and detached homes & chalet bungalows – all turnkey as is standard with Braidwater and highly energy efficient. 
Claughlin Park is located on Ballyclare's new Jubilee 'link' Road, and is extremely accessible to Ballyclare town centre, Belfast via the M2, and the neighbouring towns of Antrim, Ballymena and Larne.

Register
You can now register your interest for further information when available by clicking here.
It is anticipated that the Claughlin Park brochures will be published in June with homes available to reserve from August onwards. Full details on how to reserve and the process involved will also be made available at that time.
Claughlin Park
The lavish semi and detached homes will be classically-styled and all will offer a variety of architectural detailing. 
Modern construction techniques will give a 'robust build' quality as well as offering excellent insulation and energy efficiency. 
View the location of Claughlin Park – click here.
Community
In line with Braidwater's community theme, the development will have a family-friendly design offering options to upsize, or downsize.
Homeowners will be proud to live in their new community of Claughlin Park. At Braidwater we create an environment that instils passion for the area where the community spirit sparks into life and becomes part of the fabric.
Homely
Attention to the finer detail will make home owners feel 'at home,' comfortable, happy and warm. High ceilings with extensive natural light, places to exercise and play, sensitive and intelligent architecture – these are the things that enable Braidwater to build homes and communities the way people want to live.
Commuting
Claughlin Park's location on the new Jubilee Road in Ballyclare is perfect for commuting to Belfast and further afield. The M2 is only 5 minutes away, avoiding the town centre, and providing direct access to Belfast, the West or the South.
Locality
Residents at Claughlin Park will benefit from quick access to Ballyclare. The new Jubilee Road allows for ease of access around the town as well as a quicker route to the M2 motorway, and with a bus stop on the doorstep of the development, the town centre is only minutes away and a good alternative to the car. 
There are a wide range of leisure opportunities nearby too. Sixmile Leisure Centre is located in the town centre offering activities for young and old, swimming and fitness classes. Golfers have the choice of the local 18-hole courses at Ballyclare, Greenacres and the Kingfisher Country Estate in Templepatrick. 
Also close to the town centre, is the Six Mile Water River Park which covers 37 acres of open parkland, a large play area, pond area, tennis courts and car parking. The Park itself has a 2.3km circular trail which is perfect for hiking, running, and walking.
The area also boasts a great selection of nursery schools, primary and secondary schools, whilst the town is home to an exciting mix of high street stores, independent shops and the popular array of restaurants and coffee shops. 
Speaking at today's announcement, Darren Farnan, Marketing Manager of Braidwater, said: 'We at Braidwater are delighted to announce that we will shortly commence construction at our new development, Claughlin Park, Ballyclare. We are very excited about this new development as it is located in an extremely vibrant, easily-accessible area in the North East of Northern Ireland.
'Construction will commence soon and we're hoping to publish the brochure during June so it's advisable to register your interest as soon as possible.'

Find out more
For a combination of luxury living and modern convenience, contact Simon Brien Residential on 028 9066 8888 or Braidwater Homes on 028 7181 0106 or log on and register: braidwater.com
Mortgage Advice
Our dedicated Independent Mortgage Advisor can be contacted to arrange your new mortgage as they have access to the complete mortgage market & bespoke products in order to get you the best deal possible. Please speak to Mark Crawford of Crawford Mulholland on 028 9066 5544 or office@crawfordmulholland.com.