The front doors are now open to the new luxury show home at Gleann Elagh on the Upper Galliagh Road in Derry and the number of interested parties to visit so far have made this one of the most popular show home launches that The Braidwater Group has ever had.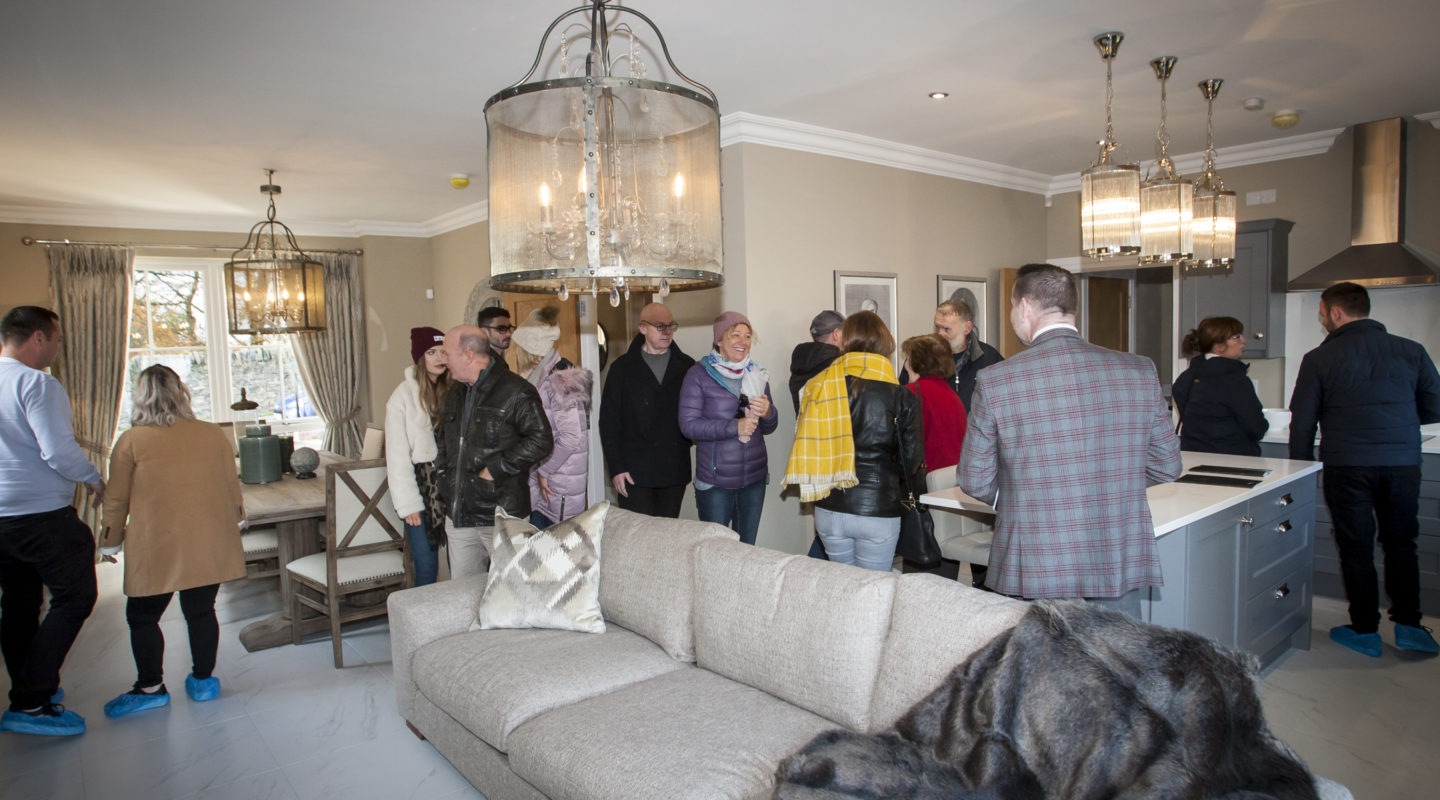 A hive of activity… at the new Gleann Elagh show home on Sunday.
The development comprises of 21 detached homes, laid out in a traditional avenue style with the show home accentuating the high-end turnkey finish with optional upgrades.
Offering opulent living, Gleann Elagh is located in a secluded setting and sheltered by private land populated with mature beech trees, just five minutes from the city of Derry.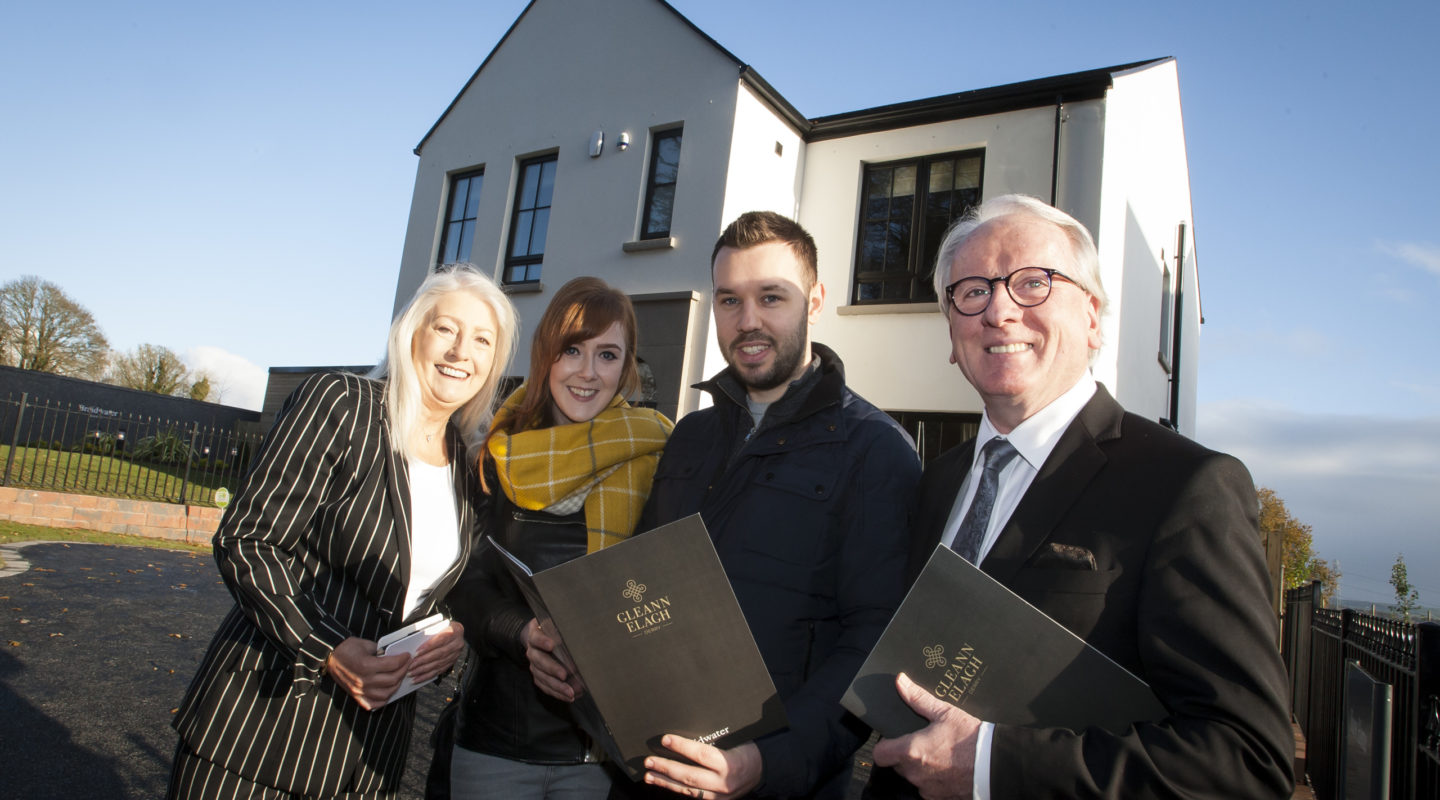 Pictured at the launch of the new Gleann Elagh show home are Geraldine (left) and Charlie Gallagher (right), Oakland Estate Agents, along with the first purchasers, Roseanne and Sean Carlin (centre).
The four-bedroom detached homes at Gleann Elagh are classically styled, with four different house types offering a variety of architectural detailing. Modern timber frame construction gives a robust build quality as well as offering excellent insulation and energy efficiency.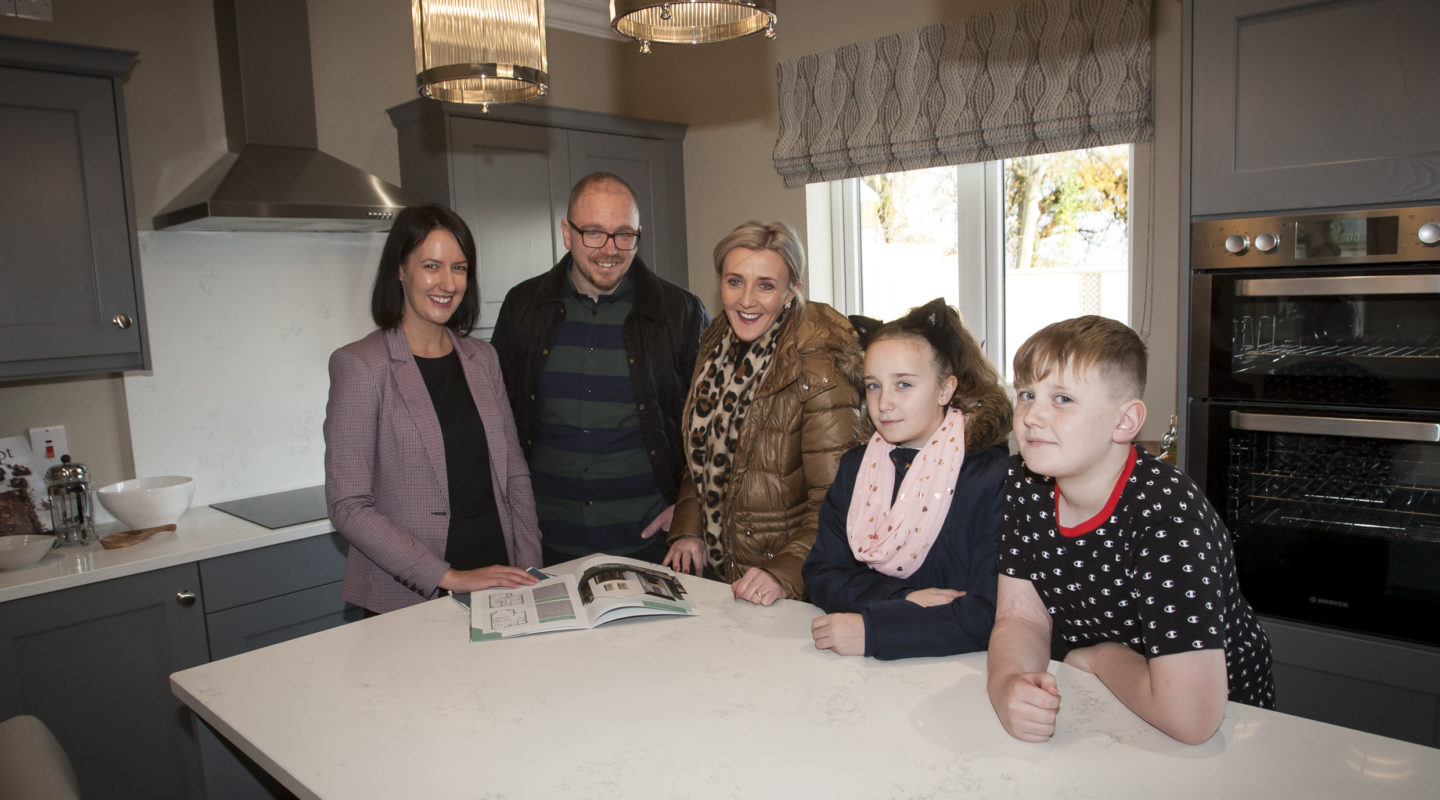 Sarah McLaughlin (left) from Oakland Estate Agents discusses room sizes with the Cregan family during the opening of Braidwater's new Gleann Elagh show home on Sunday.
Darren Farnan, marketing manager of Braidwater, said: "This was without a doubt the most popular show home launch we've ever organised. Upper Galliagh Road with its seclusion, privacy and wooded area view, is in my opinion one of the nicest, warmest and most secure places in Derry you could live.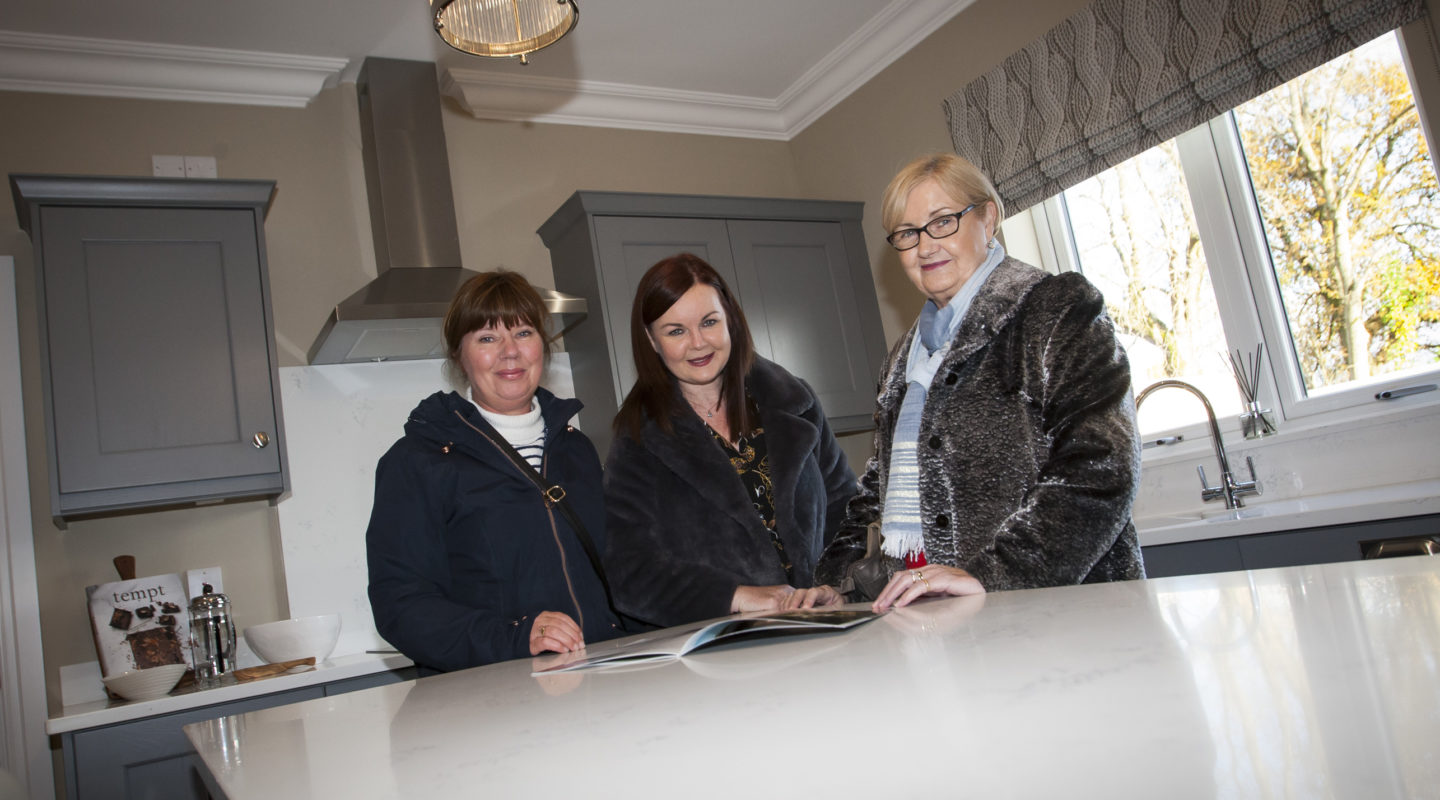 Browsing around the kitchen at the new Gleann Elagh show home on Sunday are Donna Carlin, Jackie McGee and Lita McDaid
''Our in house interior designer, Poppy McGinnis, has perfected the style and blend of upgrades to ensure the show home is of the highest quality.
''This is an exciting time for the company as Gleann Elagh is currently our only cityside development. With only 21 homes, it's going to be an exclusive, private community that will attract a high level of interest from a range of buyers.''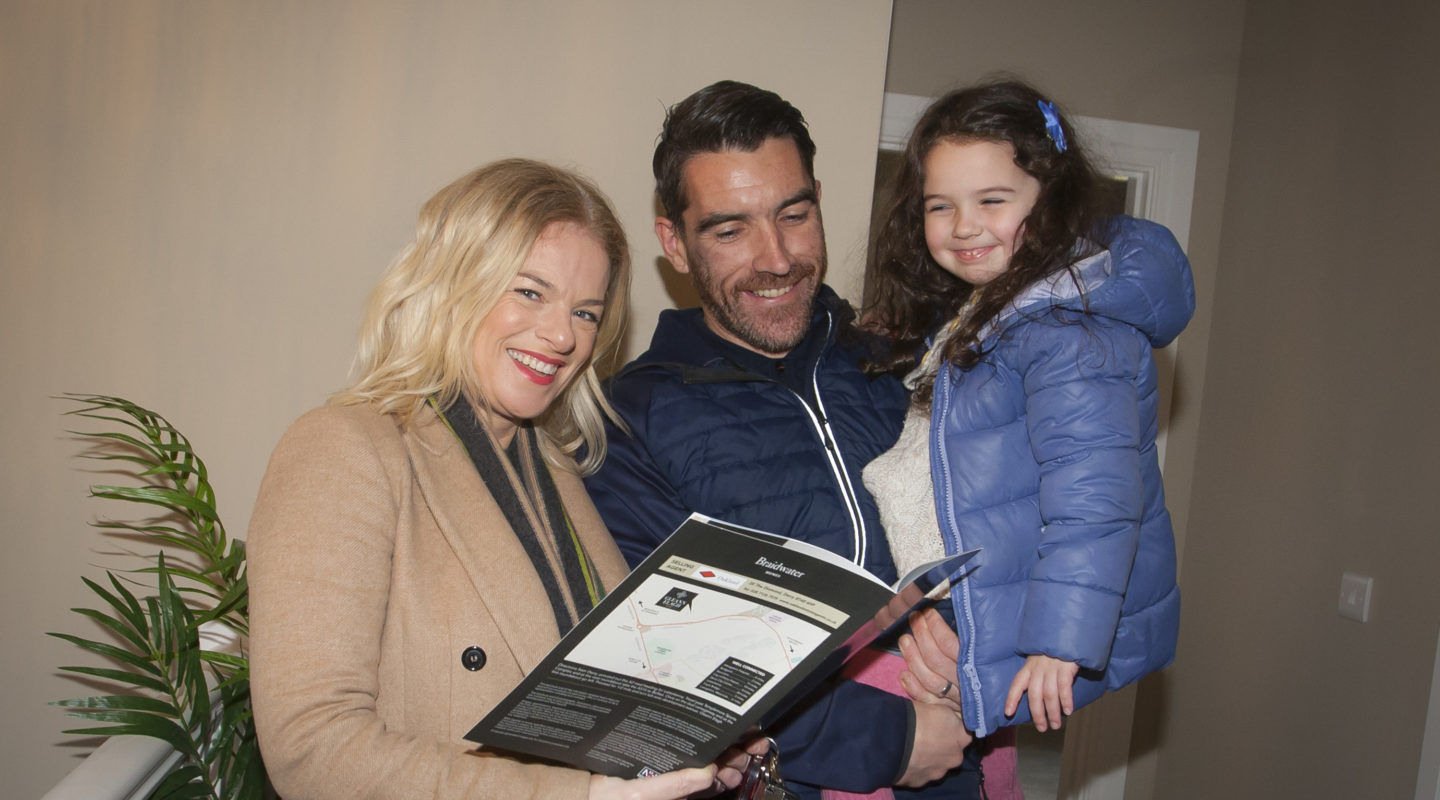 Fiona and Richard Stewart with daughter, 4 years old Cassie, at the new show home at Gleann Elagh on Sunday.
Show home opening hours
The Gleann Elagh show home will be open every Sunday (2-4pm) until the Christmas break or for further details please contact the selling agent, Oakland Estate Agents, on 028 7126 797 or log onto www.braidwater.com.  
Local couple Paddy and Margaret Harkin pictured in one of the luxurious bedrooms at the new Gleann Elagh show home on Sunday.