The Bank of England recently voted to raise interest rates by 0.5 percentage points to 1.75% as the UK battles to prevent inflation running out of control. But no need to panic says Aaron McElhinney of Smart Mortgages.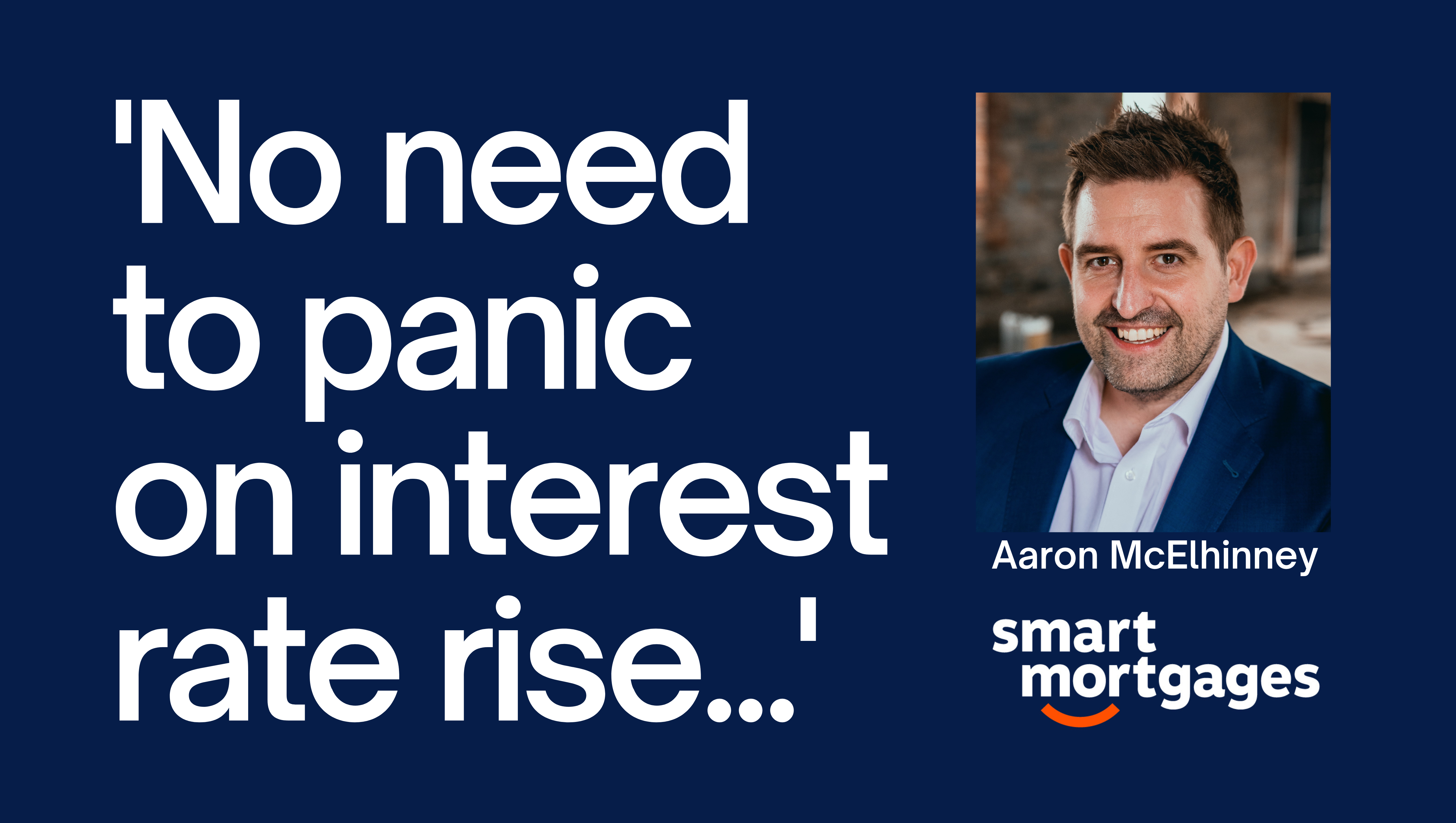 How does that affect those who own a home or looking to buy in and around Northern Ireland in the coming months? Aaron, who is the managing director at Smart Mortgages gave his opinion this week.
'It's a fact that interest rates are still historically low when viewed over the last half century. So, those with fixed-rate deals (around 75% of the current mortgage market) won't feel any immediate impact as many lenders had already anticipated the increase and built it into current mortgage rates.'
And with mortgage affordability improving, the local adviser says lenders are being much more flexible in their terms. 
'The maximum terms for a mortgage used to be 35 years but this is now extended to 40 by a number of lenders. Add to that, that you used to only be able to take out a mortgage up to the age of 70 but that's also been extended to 75. This all goes to helping reduce monthly repayments making home ownership more affordable across the board.' 
Some lenders such as Nationwide now let people borrow up to five-and-a-half times their income, with the removal of what was known as the 'mortgage stress test' at the beginning of this month.  
Aaron emphasised the easing of 'forced stress-testing' borrowers helped when it comes to getting mortgages, adding: 'Lenders are no longer forced to stress-test borrowers' finances to see if they will still be able to afford repayments at the end of their current deal. Although it's right to be prudent, the test rules were quite onerous and prevented some borrowers from getting mortgages even though they could easily afford repayments.'
He also added that the recent availability of green mortgages also boosts affordability in the market.
'Green mortgages are only available on homes that have an A or B energy efficiency rating, which makes them suitable for a new Braidwater home. Banks and building societies take into account future energy bills when determining how much they will lend, and we are finding that homeowners are securing an average of £7,000 more. Not only can they borrow more, they can also potentially secure better interest rates and cash-back offers,' concluded Aaron.   
All this should provide reassurance to existing home owners and would-be purchasers, even though the interest rate has gone up for a sixth consecutive time and by 0.5% on this occasion.  
Here's some handy background information:
WHAT ARE INTEREST RATES?
Interest rates determine the cost of borrowing or the rewards of saving. For borrowers, the interest rate is the amount you are charged for borrowing money and is shown as a percentage of the total amount of the loan. Savers, on the other hand, will be credited with a percentage of their balance. 
WHAT IS THE BANK RATE AND WHY DOES IT CHANGE?
Sometimes called the Bank of England base rate, the bank rate determines the level of interest that the Bank of England pays to other banks. It also influences what other banks and building societies charge borrowers or pay to savers. Raising interest rates is a way to curb inflation – it's designed to make borrowing more expensive and hopefully discourage spending. As a consequence, mortgages and loans become more expensive but savers get a greater return.
WHO SETS INTEREST RATES?
The government sets the Bank of England a target designed to keep inflation low and stable.  The bank's Monetary Policy Committee (MPC) decides on the interest rate, taking into account inflation, economic growth and employment levels. At the MPC meeting on 3 August 2022, members voted by a majority of 8-1 to increase the interest rate. 
WHAT IS THE INTEREST RATE GOING UP TO?
As of 4 August 2022, the new bank rate is 1.75%. Prior to December 2021 the rate was at an all-time low of 0.1% (having been reduced at the start of the pandemic in March 2020). 
Although interest rates are now the highest since 2008, it's worth remembering that they are still historically quite low. The UK interest rate averaged 7.2 % between 1971 and 2022, reaching an all-time high of 17% in November 1979 and a record low of 0.1% in March 2020. Even if further rate rises happen, the rate is still comparably much lower than it has been previously.
WHY HAVE INTEREST RATES GONE UP?
Inflation – the rate at which prices rise – is currently running at 9.4% and the Bank of England has said it could rise to 13% by the end of the year. The Bank of England's target for inflation is 2% and this latest interest rate rise is part of a bid to stop inflation spiralling out of control, but without killing off post-pandemic economic recovery. 
WHAT WILL THE RATE INCREASE MEAN FOR MY MORTGAGE?
With each base rate rise, other banks and building societies "protect forward". This means that as borrowing gets more expensive for them, they pass it on to the consumer.  The type of mortgage deal you're on will determine if – or when – your bills will go up in line with interest rates. 
Anyone with a tracker mortgage will see it increase straight away as these are linked directly to the base rates. Those on a standard variable rate (SVR) mortgage will most likely see an increase too. If you have a fixed-rate mortgage, your rates won't change for the period of your fix.
Longer fixed terms have always been a better option to guard against sudden payment increases, with two-year plans usually being the optimum period – although five and 10-year fixed rate periods have become increasingly common and give you more breathing space. The drawback is that they sometimes come with bigger penalty clauses and Early Repayment Charges (between 1-5%) should you decide to move house or change providers before the term is up – and lenders are now charging higher upfront fees to allow them to offer lower rates and recoup their losses elsewhere. That said, new and existing borrows could protect themselves from any further rate rises by locking in to a fixed term product now.  
For further information and bespoke advice for your circumstances, always speak to an independent mortgage advisor.
Smart Mortgages
2 Columba Terrace, Waterside, Derry/Londonderry, BT47 6JT
Phone: 028 7131 1103
Email: tasks@smart-mortgages.co.uk