With the new homes market now open for business once again, Braidwater is delighted to put forward a new part exchange option on selected plots*, which will offer an alternative to securing your dream home.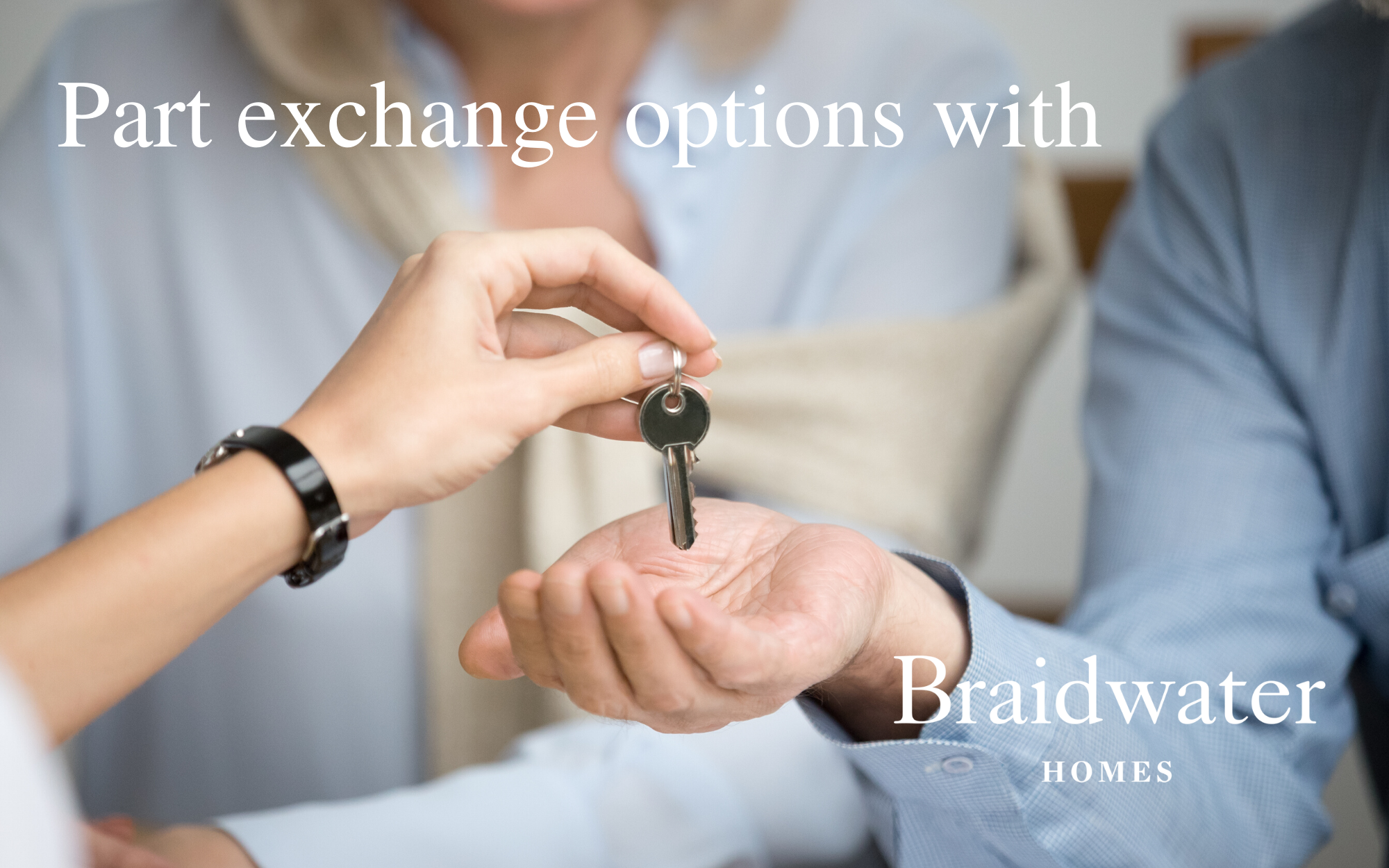 What is 'Part Exchange?'
Part exchange offers you the chance to secure, purchase and move into your new Braidwater home, while we will take ownership of your existing home for future sale.
Process
The process of part exchange is straightforward:
Should your house qualify for Part Exchange with one of the selected plots, Braidwater will request an independent valuation of your current property;

Braidwater will then submit an offer to you for your home;

Upon agreement, Braidwater will progress the sale of your current property, allowing you to concentrate on the purchase of your new home.
Benefits of Part Exchange
It's straightforward and will speed up the buying process and, if your house qualifies, Braidwater will make you an offer. The process will move as quickly as you want and with no chain to stress about. You can move into your brand new home when you're ready.
On top of that, there are no agent fees to worry about or even viewings required for your own home
Trust
Braidwater is leading the way with this offer, by being the first in the market to do so. With Braidwater you can rely on a family company that has over 40 years in the house building industry and one that conveys trust and values. Speak to us directly to discuss our commitment to you.
Cormac McCloy, sales manager of Braidwater outlined the company's position:
''Braidwater is the first in the marketplace to put forward a part exchange offer and has a range of new home options to select from. Once the wheels are in motion, you can trust Braidwater to help you secure your dream home.''
Get in touch:
To avail of this special offer please make contact with our selling agents to discuss:
Beech Hill View and Birch Hill: Donnybrook Estate Agents on 02871343600
Gleann Elagh: Oakland Estate Agents on 02871 267979
*Terms and conditions apply
Currently available on plots 2 & 3 at Beech Hill View and plot 14 & 20 at Gleann Elagh;
Your existing home must meet certain criteria in order to be approved for the offer;
Based on an independent valuation, Braidwater will make an offer on your existing home;
All elements of the process will follow health and safety guidelines and legal protocol;
Offer available to until the end of July 2020;
No additional incentives will be available through part exchange.