Braidwater recently invited charities and sporting organisations in the Limavady area to apply for funding in celebration of the commencement of construction at Roe Wood on the Ballyquin Road.
Our second recipient is Assistance Dogs NI, a local registered charity which trains and provides assistance dogs for individuals with autism, individuals who are full-time wheelchair users as well as therapy dogs for various facilities.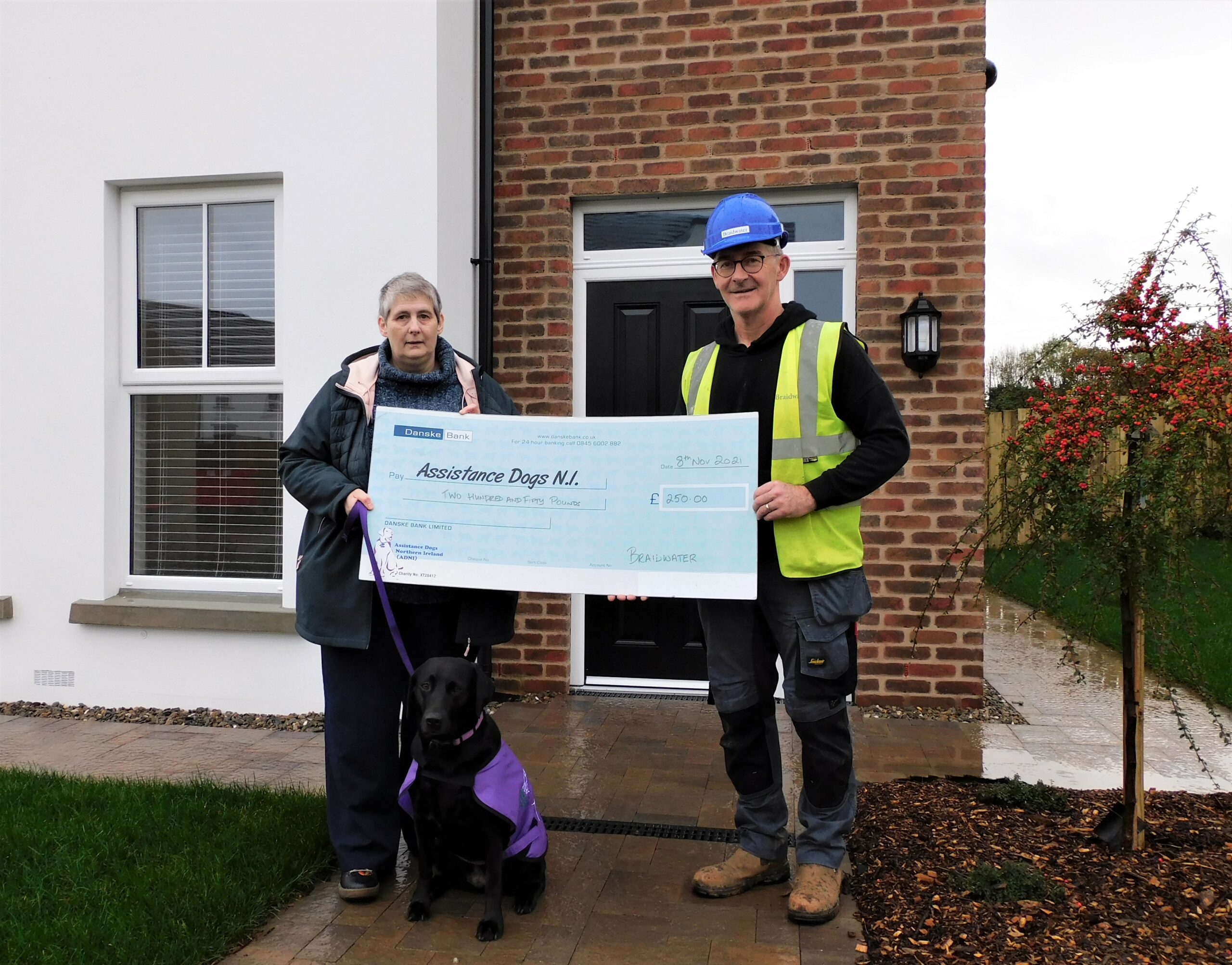 Geraldine McGaughey of Assistance Dogs NI receives a donation from Roe Wood site foreman Brian O'Kane. Also in the picture is Hope, one of the assistance dogs available to support individuals with autism.
10 years ago Geraldine McGaughey set up Assistance Dogs NI from her own home. As an Autism Social Worker, she felt inspired after watching a TV show about assistance dogs for children with autism in Ireland and wanted to be able to bring this incredible help to local children:
''Assistance Dogs provide independence and dignity for people with autism and/or disabilities and can greatly increase quality of life and promote wellbeing.
''We're absolutely thrilled to receive this donation and we'll utilise the funds to provide canine therapy within facilities in Limavady town such as Roe Integrated Primary School.''
''We receive no government funding, we rely on donations, fundraising and grants, so all donations are gratefully received and acknowledged and will contribute to supporting children with autism and/or disabilities and their families.''
Darren Farnan, marketing manager of Braidwater, was delighted to offer the support:
''Assistance Dogs NI provides an invaluable service to individuals with autism and/or wheelchair users and their families, and can have a lasting positive impact.''
''This donation is part of the Braidwater Group's yearly charitable programme and in line with our commitment to support the communities we operate in.
Braidwater has been building homes of quality, style and value for over 40 years and is committed to not only building homes but to bettering the lives of people throughout Northern Ireland.