Local couple Emily and Philip have the second of their double celebrations to look forward to with recently having moved into their new Braidwater home at Roe Wood and now, the arrival of a new member of the family at the end of this month!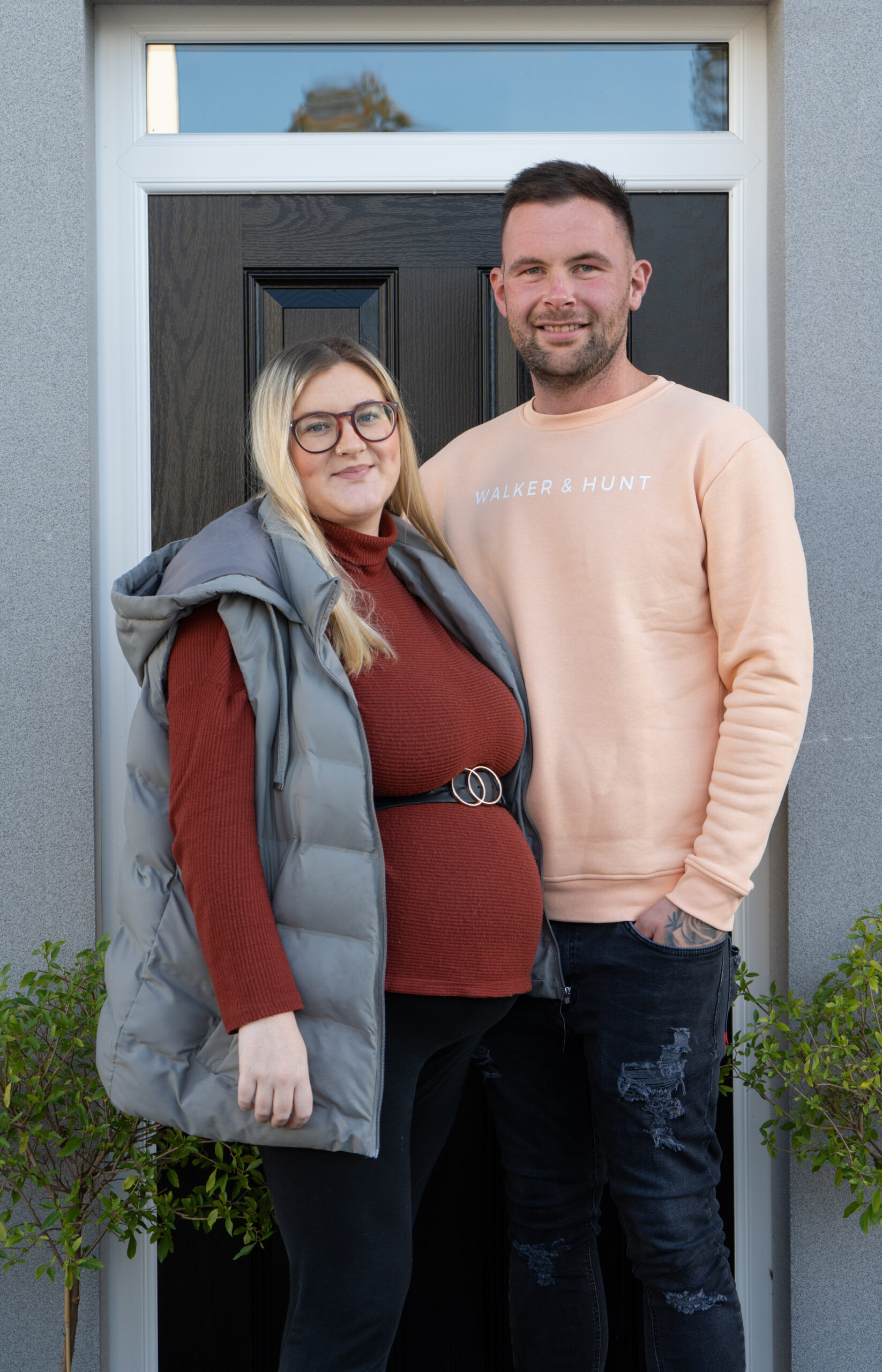 Emily and Philip pictured at their home in Roe Wood.
Having moved in May this year, their timings are all coming together as they only found out about their good news a mere three weeks before taking possession of their new property.
Now they're preparing a new room in their new home that will bring them love, joy and happiness.
At the beginning of the house hunting, the happy couple were intent on securing a new build as it would suit their purposes. Philip takes up the story: 'I researched online for new builds and we came across Roe Wood on Property Pal. So, we got in touch with Bensons Estate Agents, who in turn sat us down with a financial adviser.
Philip described the process as so straightforward and simple. 'We were over the moon with our new home and the best thing was, we were able to select the finishes that we liked and make some changes before the first fix.'
With prices and inflation on the rise recently, Philip knew Limavady was the right place for them.
'Coleraine would have been too expensive for us so we set our sets on Roe Wood and didn't need much convincing. All the information presented by Braidwater and Bensons was detailed and to the point so we weren't left not understanding anything.

'During our research we quickly came to realise that a resale would probably require refurbishment so that's why we were so determined to secure a new build. 

The young housebuyer also used his previous experience of living with his parents in a traditional block house and described it as hard to heat.
'From our short time in Roe Wood we know it's going to be easier and cheaper to heat our new home.'
Watch Emily and Philip's video testimonial:
So having made the choice of a new build and Limavady, the happy soon-to-be-parents are settling in well. Emily takes up the story. 'We didn't expect this to be honest. The home has far exceeded our expectations. We just had to move in as everything was finished – from the carpet, the paint, the kitchen and the bathrooms, it was just perfect!
'It has been such a surreal feeling. We never thought it would happen after some previous disappointments, so it's all come good and we're thrilled to soon be welcoming our new arrival into our gorgeous new home,' added Emily.
Philip and Emily were also very complimentary about the onsite team, adding that any problems were sorted very quickly and to their complete satisfaction.
Philip concluded: 'Brian and Criona were excellent with any snagging and so quick at coming back and helpful. Any snagging or issues have been dealt with and if it ever came to the time that we'd be thinking of upsizing, we would definitely be keeping an eye out for a Braidwater home.'
So, best wishes to this young couple who not only have settled in well and adjusted to their new surroundings at Roe Wood but it will soon be time to roll out the red carpet for their new arrival!