Last Friday it was a night of glamour, glitter and success for the Braidwater Group as NHBC recognised the best site managers in Northern Ireland at Pride in the Job Awards ceremony in the Culloden Estate.
Braidwater's John Paul Gibbons (site: Beech Hill View) was for the second year in a row, acknowledged for an NHBC Quality Award and also received a further Seal of Excellence Award.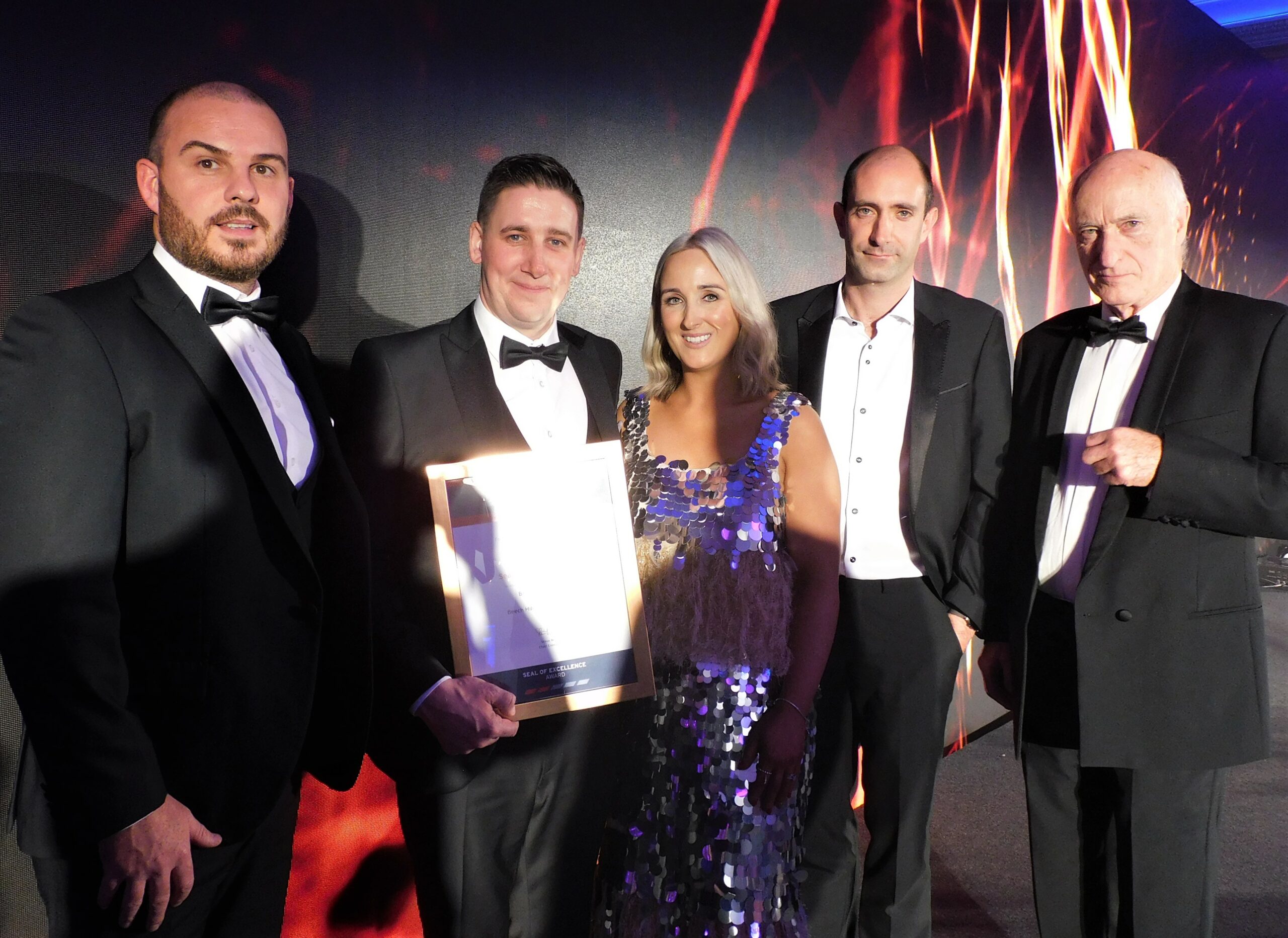 John Paul on stage with his wife Anne after collecting the Seal of Excellence Award last Friday. Also pictured from the Braidwater Group are (L-r): Ryan Boyle, Joe McGinnis and Patrick McGinnis.
Another Braidwater site manager, Colin Martin (site: Castlehill), was also recognised for the second year in a row, receiving his Quality Award for 2021.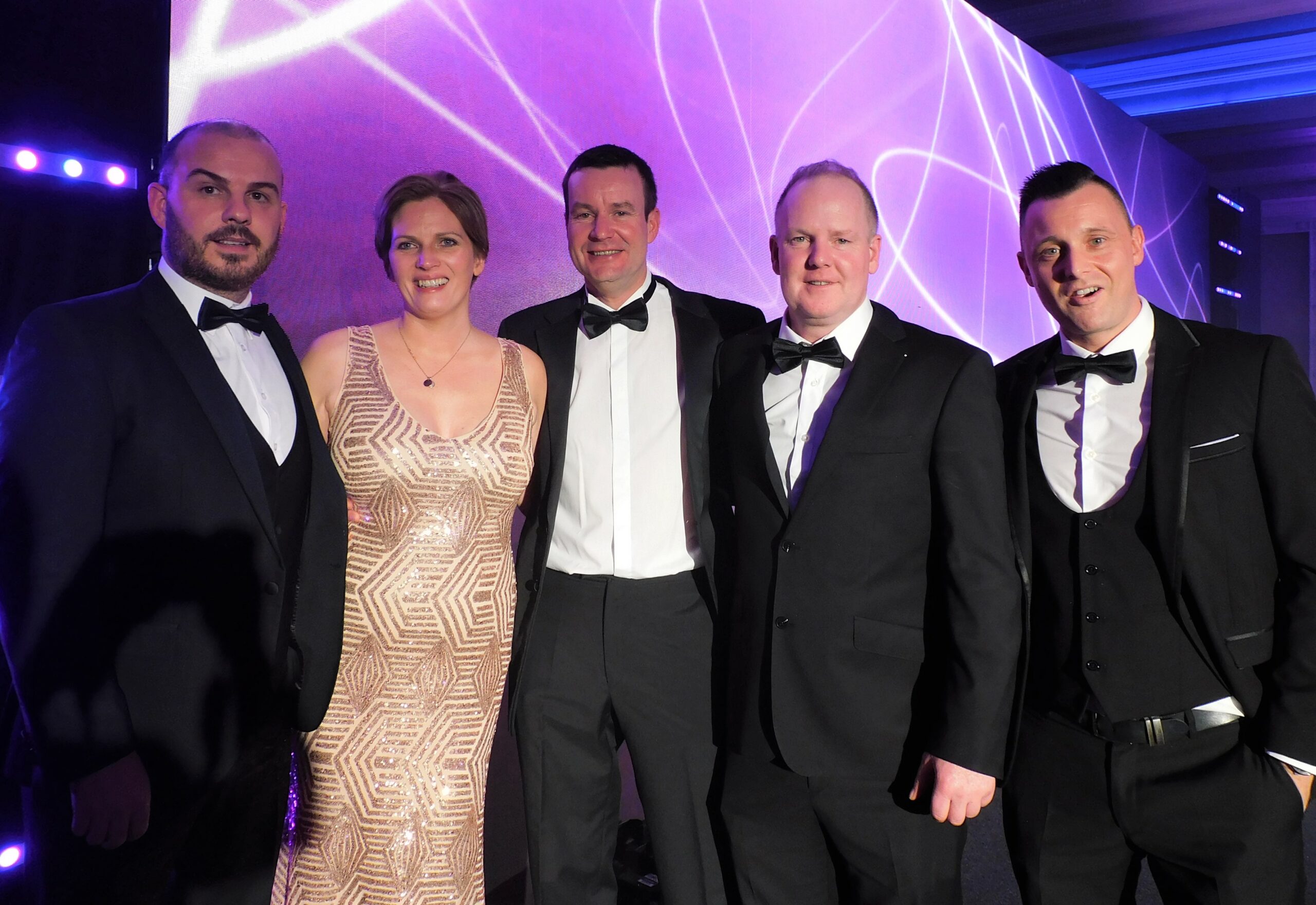 Colin Martin (middle) with his wife Shelley at the NHBC awards last Friday. Also pictured are Braidwater's (L-r): Ryan Boyle, Gerard Dowd and Chris Jordan.
BW Social Affordable Housing's Eamonn Devlin (site: Beraghvale) was acknowledged for his first time Quality Award win from 2020 but missed out on the glamorous awards occasion last year due to Covid.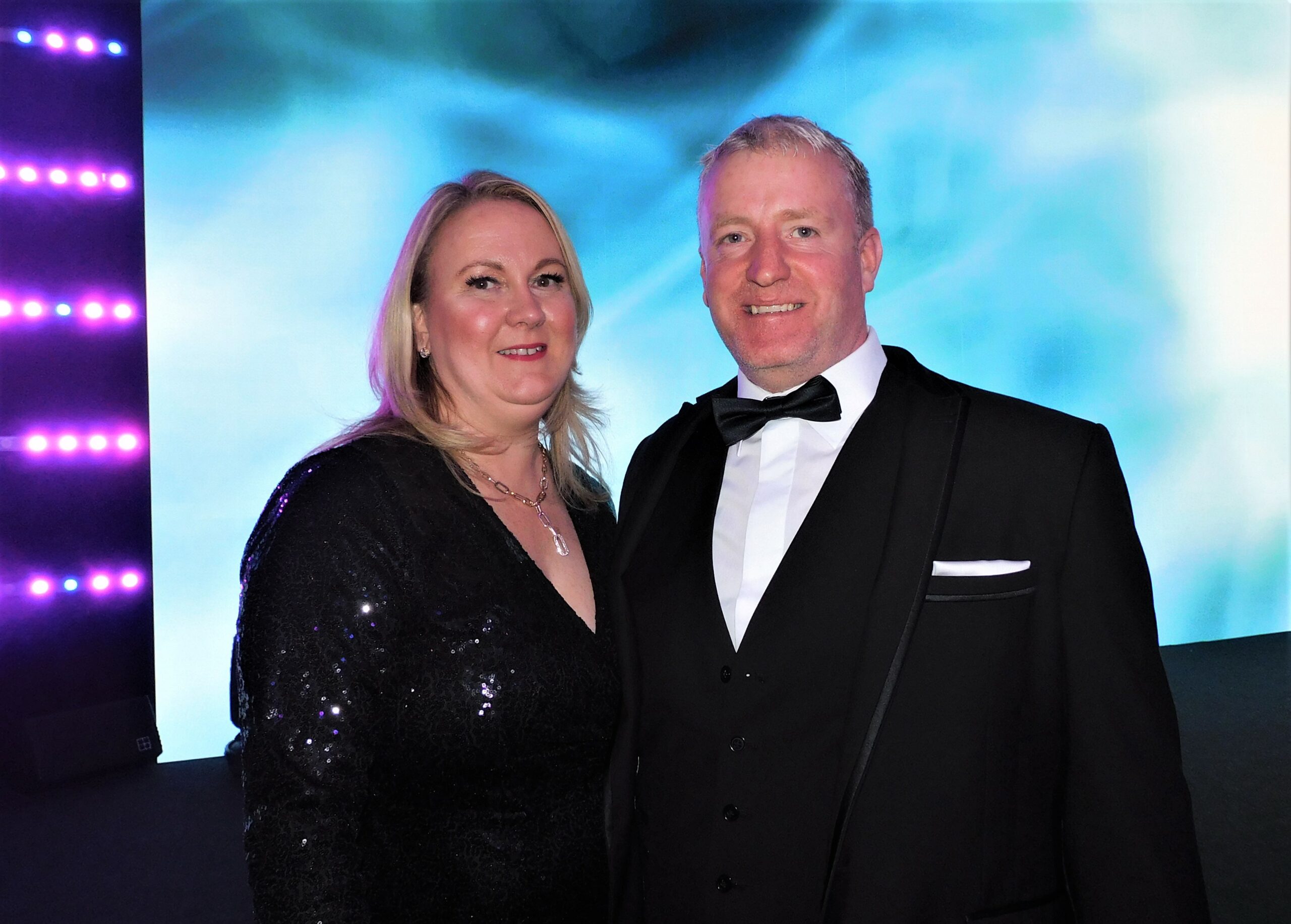 Eamonn Devlin pictured with his partner Tracey Cunningham at last Friday night's award ceremony.
The Pride in the Job Awards are one of the most highly regarded accolades in the housebuilding industry. They celebrate the exceptional contribution site managers make in creating homes of outstanding quality, with the NHBC judges selecting the winners.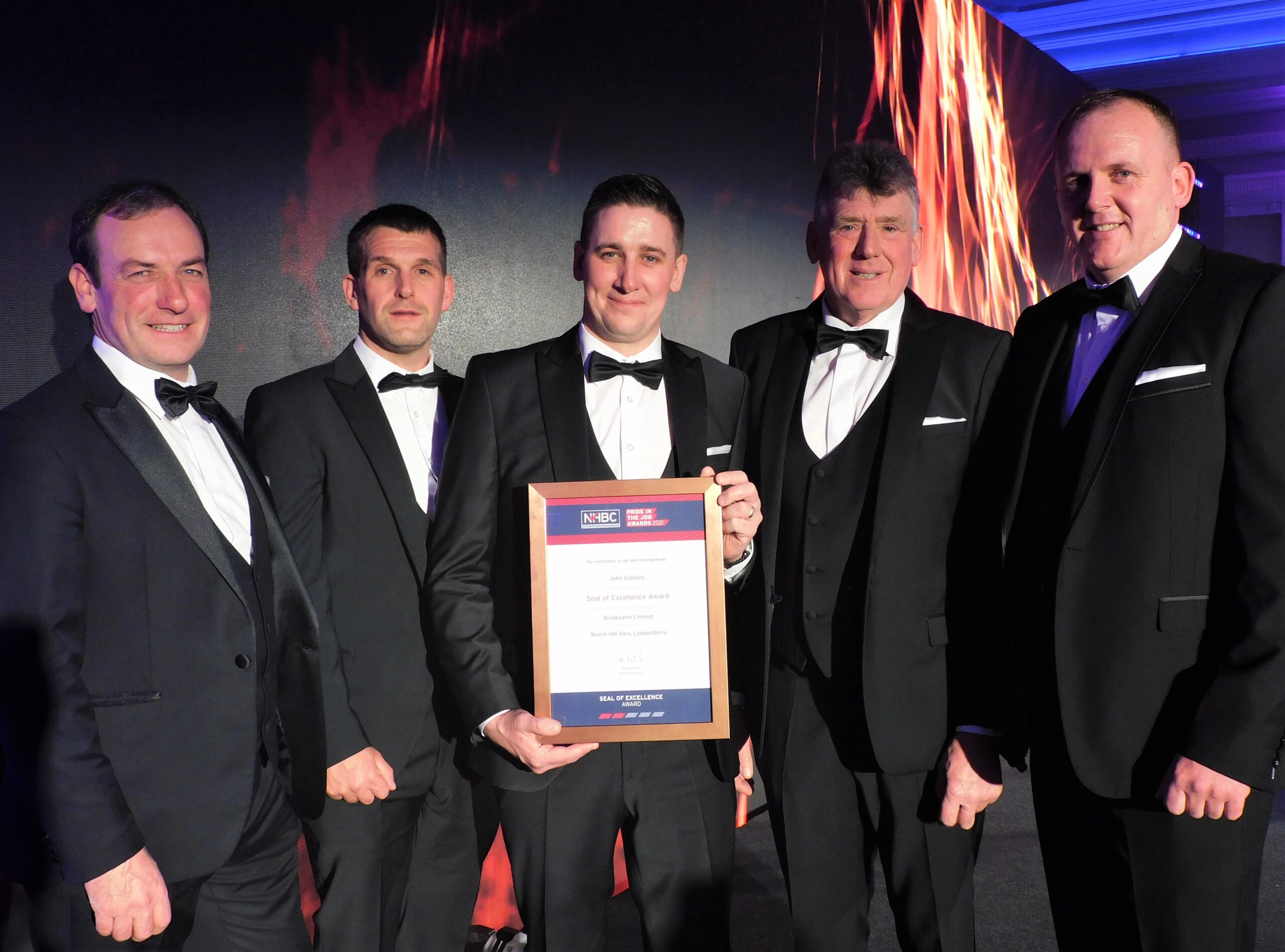 A very happy John Paul at the awards ceremony with his Braidwater colleagues (L-r): Sean McWilliams, Paddy Donnelly, John Devine and Ryan Proctor.
Ryan Boyle, chief operating officer for the Braidwater Group, commented: "The Braidwater Group management team would like to acknowledge John Paul, Colin and Eamonn and their teams for their high standards of work. They have consistently created homes of outstanding quality at Beech Hill View, Castlehill and Beraghvale, ensuring top-class developments with high-end finishing and brilliant customer service.''
''The Braidwater Group continues and will always strive for excellence, going above and beyond the assurance of building top quality homes.''
All three site foremen jointly praised the efforts of their respective teams: "We would like to thank all our teams, onsite and in the office, sub contractors and suppliers, for their support, hard work and dedication, without which these awards would not be possible.''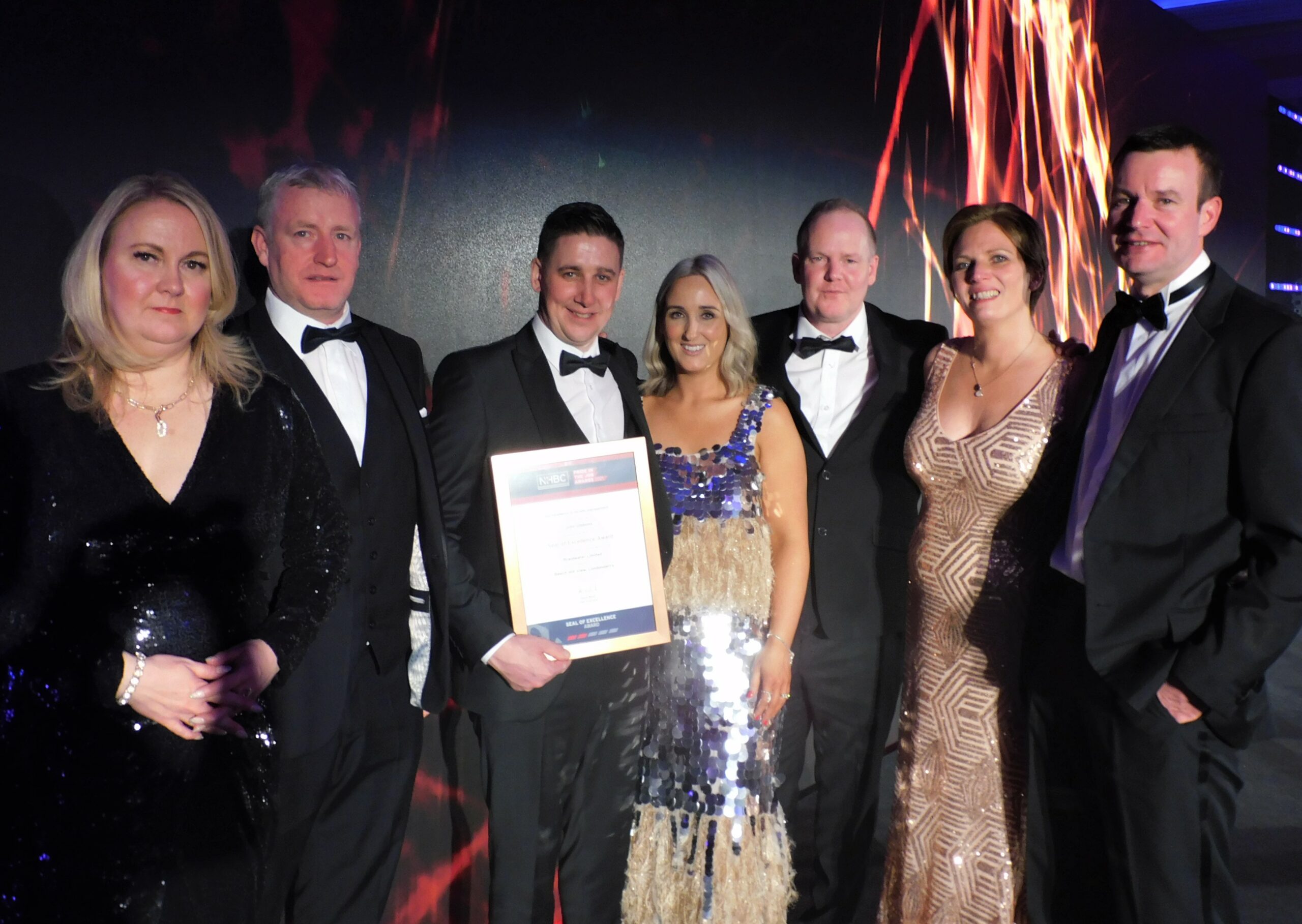 A winning team (L-r): Tracey Cunningham, Eamonn Devlin, John Paul Gibbons, Anne Gibbons, Gerard Dowd, Shelly Martin and Colin Martin.