Moving house can be a stressful process at the best of times, but what happens when you are due to move on the day that a national lock down comes into force? Kerry Dunlop, Brian McMonagle and their family found out and today they have shared their story on why Braidwater's excellent customer service made all the difference.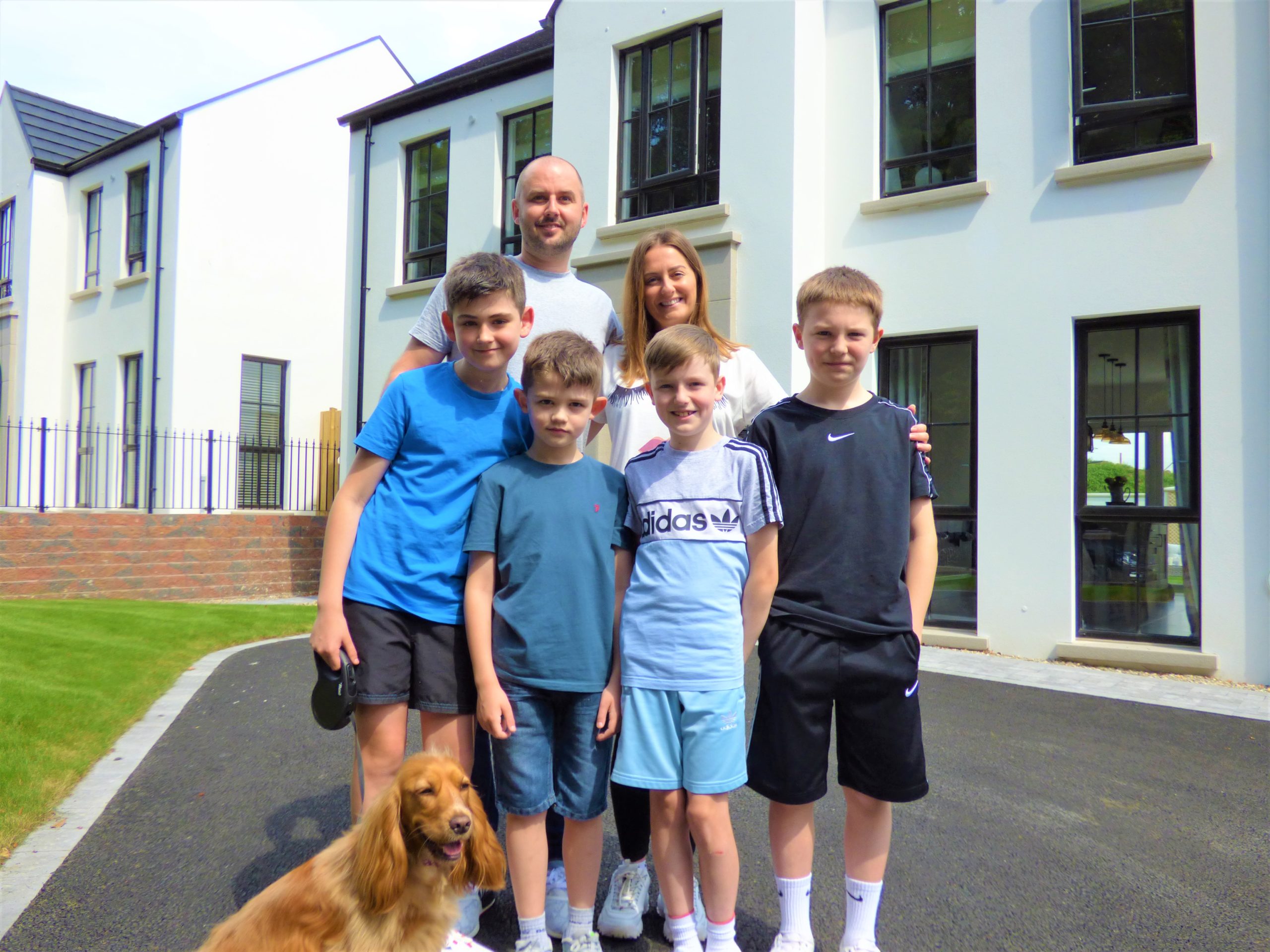 Brian, Kerry and boys plus the family dog outside their new Gleann Elagh home.
"At the end of last year we decided that it was time to really put the wheels in motion to find our first house to purchase. We had been renting for a while to save money and on New Year's Eve night we chose Gleann Elagh, a luxury development by Braidwater, as the place we wanted to live. When we saw the light and airy rooms, high ceilings and the floor to ceiling windows for the first time we knew it was a special place.  
"With four children and a dog, we needed space and security. Gleann Elagh is on a quiet road with hardly any traffic. Our house has a beautiful garden, we are close to shops and bus stops, as well as being close to our family and friends in the city. We are overlooking a Victorian estate, which is lovely to open the curtains to each day. The builders had described it as a luxury development, and that is exactly what we were getting with this property. 
"2020 was shaping up to be an exciting year and we couldn't wait to get the keys to our own place. Everything seemed to be progressing quickly and smoothly. We were working closely with the Braidwater team and in particular Cormac McCloy, sales manager for Braidwater, and he was keeping us informed every step of the way.
"In February we moved out of our rented accommodation and each went home to our respective parents' houses, with the expectation that we would be moving in to Gleann Elagh on 26th March. Braidwater's team worked so hard in the run up to this date to make sure the house was finished, and all of the details that we had chosen were put in perfectly. 
"On the 25th March, everything was ready to go. Our cars were packed and all of our deliveries were arranged for the next day. On 26th March, we found out that because Land Registry had closed that we couldn't get the keys to our new house. 
"This was a stressful time, but our conversations on an almost daily basis with Cormac made a big difference. We knew that he was pushing as hard as he could to get us settled in and that gave us a lot of reassurance. 
"We were lucky that just two weeks later we got the green light to move, and we haven't looked back since. This was absolutely the right move for our family. While it happened in the middle of a global pandemic, which wasn't ideal, we have actually been able to really enjoy the house since – not least because we are both working from home and home schooling here too!  
"Of course everyone is looking forward to the housewarming party, but that is a while off yet! We are blaming the lock down measures for not having it sooner, but we are secretly delighted that none of our perfect finishes are going to get the party treatment anytime soon."